Jamie Austin is challenging AGU members and the Earth and space science community to support future geoscientists by contributing to the Austin Endowment for Student Travel. With your support, we have the opportunity to bring many more students like Kitrea Pacifica Takata-Glushkoff to AGU Fall Meetings.
Join the Challenge: the Austin Endowment for Student Travel
When the news arrived that she had received a grant to travel to the American Geophysical Union's (AGU) Fall Meeting, Kitrea Pacifica Takata-Glushkoff took stock of her feelings and what it meant to be attending the world's largest scientific convention.
In her notes from that day, Takata-Glushkoff, who is currently finishing an undergraduate degree in earth and oceanographic science and Russian at Bowdoin College, wrote how she looked forward to meeting the geoscientists who's work she'd spent much of her college education reading. In fact, by meeting with potential Masters or Ph.D. advisors and hearing about grad school experiences from her peers, Takata-Glushkoff hoped the meeting would be a chance to clarify the next step in her career.
The grant Takata-Glushkoff received is the Austin Student Travel Grant, a grant funded from an endowment started by Jamie Austin, a senior research scientist at the University of Texas Institute for Geophysics. Without the grant, which is designed to help students recoup costs such as fees, hotel and plane tickets, Takata-Glushkoff said that the cost of getting to the meeting, which was held in San Francisco, would have been too great.
Following the Fall Meeting, Takata-Glushkoff decided to look back on her experiences and see how they measured up to her expectations. What follows next comes directly from an email describing her experience.
---
Now, looking back, I can say that AGU Fall Meeting certainly exceeded my expectations. I gained a lot from hearing people's stories, which is particularly important for me as I approach my graduation from Bowdoin. Seeing how excited someone can become when they share their research or their geoscience path was very inspiring!
My current research with Angela C. Bliss – through a Research Experience for Undergraduates at Oregon State University – integrates satellite data and local ground observations gathered by Iñupiat (Native Alaskan) sea ice experts to characterize polynyas in coastal Alaskan sea ice. It's been an important way for me to wrestle with the complexities of how to respectfully combine indigenous knowledge with Western science.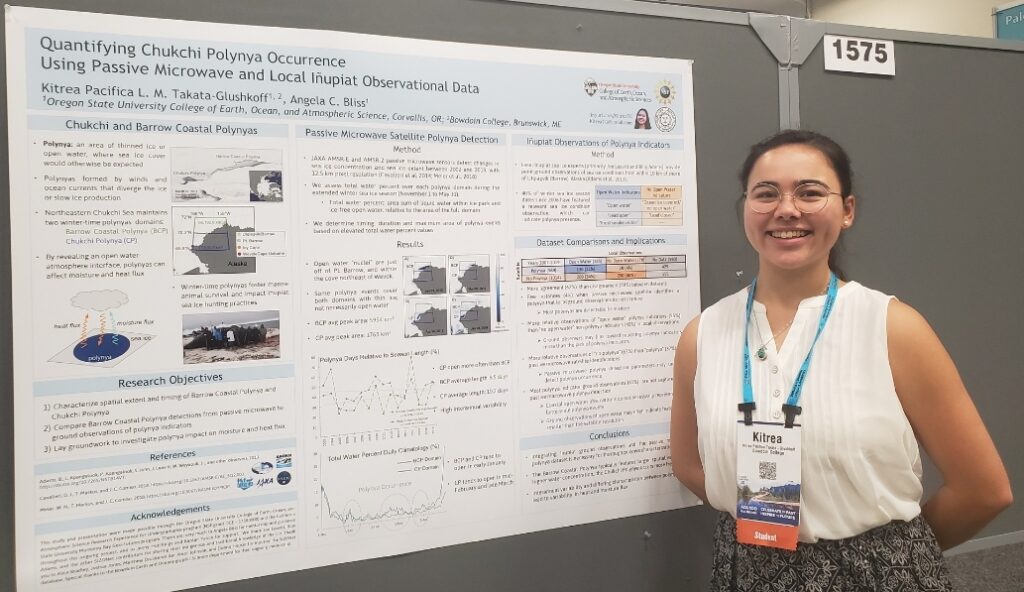 Presenting this work at AGU was an opportunity for me to share these datasets with people from all over the world. I had the pleasure of speaking with some of my geoscience idols and hope that I have contributed, however small, to reminding people about the need to equitably value indigenous knowledge and western science.
In the best of ways the conference was a bit overwhelming! The hardest aspect was definitely that there were so many overlapping sessions and events I wanted to attend that I wished I could have been in ten places at once!
Most important to me was the genuine sense of community which assured me that this is where I want to be. Every stranger-turned mentor I talked to showed such willingness to encourage my passion for geoscience. I feel invigorated to continue with geoscience, and especially to bring up other young women of color with me!
I am very grateful to the donors who are making this important experience possible for me. Attending AGU Fall Meeting allowed me to find and open new doorways toward my aspirations in Arctic geoscience and knowledge co-production.
Thank you for seeing the need to support young people and women of color like myself, and helping to level the playing field in geoscience.