Announcements:
The 2024 class will take place May 7 to June 5.
If you are interested in taking the course please contact Sean P.S. Gulick. Enrollment for the class (GEO 348K/GEOf397F) is during spring semester.
There are opportunities for undergraduate research using data collected in the class.
For more information please contact Sean P.S. Gulick.
About the course:
Each Maymester (between spring and summer semesters) the University of Texas Institute for Geophysics (UTIG) offers a field course designed to provide hands-on instruction for graduate and upper-level undergraduate students in the collection and processing of marine geological and geophysical data. The course covers high-resolution air gun and streamer seismic reflection, CHIRP seismic reflection, multibeam bathymetry, sidescan sonar, sediment coring, grab sampling and the sedimentology of resulting seabed samples (e.g., core description, grain size analysis, x-radiography, etc.).
Scientific and technical experts in each of the techniques first provide students with several days of classroom instruction. The class then travels to the Gulf Coast for a week of at-sea field work and on-shore lab work. Two small research vessels are used concurrently: one for multibeam bathymetry, sidescan sonar, and sediment sampling, and the other for high-resolution seismic reflection and CHIRP sub-bottom profiling. Students rotate daily between the two vessels and lab work.
Upon returning to Austin, students work in teams to integrate data and techniques into a final project that examines the geologic history and/or sedimentary processes as typified by a small area of the Gulf Coast continental shelf. Students spend one week learning interpretation methods using industry-standard, state-of-the-art software (Focus, Landmark, Caris, Fledermaus). On the last day, students present their final project to the class and industry sponsor representatives.
This class satisfies field experience requirements for some degree programs. Enrollment is limited to 16 students.
Read more about the class: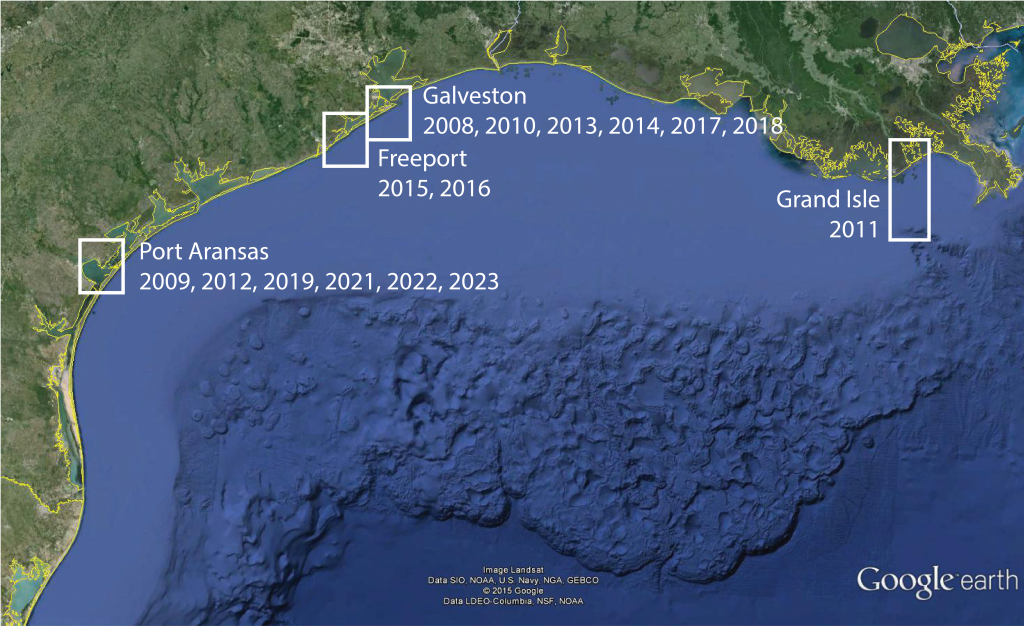 Testimonials:
"Taking the field course and getting to know the instructors outside of a traditional classroom changed my idea of the geosciences. My project topic allowed me to research the dredging of Corpus Christi Ship Channel from a geologic perspective, the fight against it, and the multiple ecosystems in the area that are affected by it. It was an incredible and unique field experience, with fantastic instructors and faculty that worked to make it a safe and fun time for us."
— London Darce, undergraduate student, 2021 class
"I'm glad I took the MG&G field course because I was able to see how to collect, process, and interpret geophysical data within a [three] week time frame."
— Carson Miller, graduate student, 2021 class
"The MG&G field course taught me the true details of applied marine geology and geophysics. I have a geophysics degree, but most of that had been theoretical or on a computer screen. On this trip, I was able to work side-by-side with our techs, troubleshoot, and learn way more than I expected. Overall, I feel it truly rounded out my geoscience knowledge."
— Jake Burstein, graduate student, 2021 class
"I loved this course! I found it very rewarding and I really appreciated learning about the actual process of data collection, analysis, and presenting our interpretations to a group of people. It gave me a chance to apply concepts we've learned in lectures and labs to real-world research environments, and I'm very grateful for the opportunity."
— Patty Standring, undergraduate student, 2018 class
Thanks to our 2023 sponsors!
Support Us:
You, too, can make a difference! We invite you to make a contribution to the Marine Geology and Geophysics ship-board field experience. Your support will help a student understand the wonders of marine exploration. Gifts are also eligible for corporate matching. And, of course, contributions are tax-deductible. Please click on the link below and write in "Marine Geology and Geophysics Field Experience" in the text box.

---