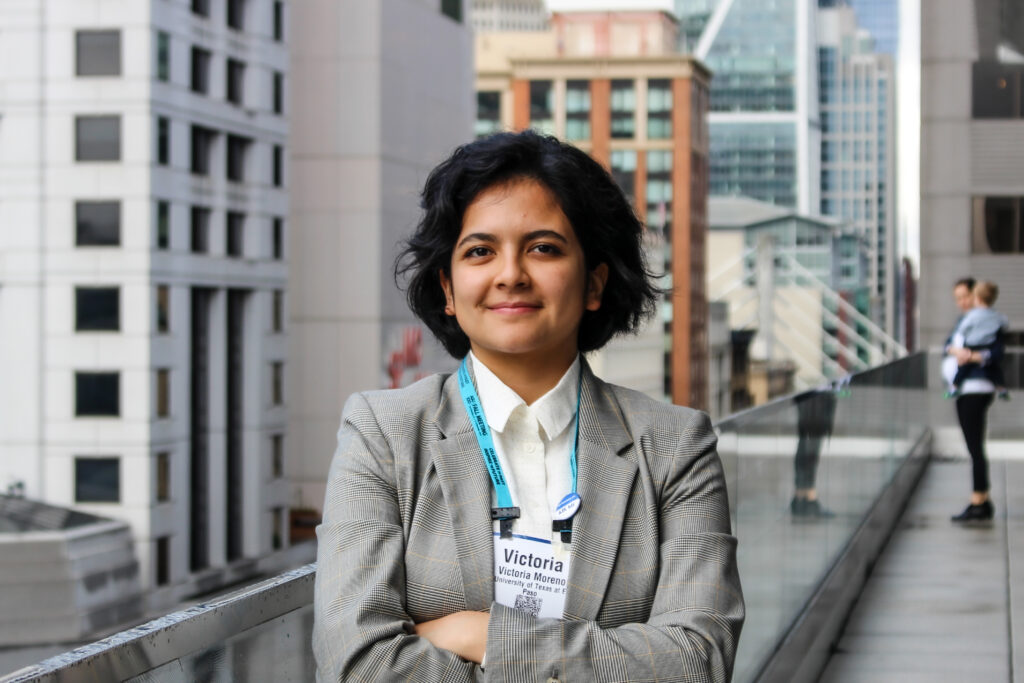 The first day of the American Geophysical Union (AGU) Fall Meeting can be an overwhelming experience for those attending the world's largest scientific gathering for the first time. After arriving in the packed San Francisco convention hall on Monday morning, Victoria Moreno, an undergraduate student at The University of Texas at El Paso admits she began to doubt herself.
"I didn't know anyone else here when I arrived," she said, "but after telling myself a couple thousand times, 'don't worry, you belong here', I think I began to settle in!"
A native of El Paso, Texas, Moreno is no stranger to seeking inner reassurance whenever she arrives in a new environment.
"Any time I go out of town the cultural difference can be very shocking," she said. "There are very few queer women of color, I'm usually the only person who looks like me."
Despite her initial fears, Moreno quickly realized the AGU Fall Meeting is a unique and diverse gathering. Meeting peers and learning from the world's top Earth and planetary scientists is hugely valuable to all who attend Fall Meeting. For young scientists like Moreno in particular, the experience can be transformative.
"Being here has sparked a new excitement for research in me," said Moreno. "Talking one-on-one with potential graduate advisors from different institutions has really opened my eyes to potential opportunities on the horizon."
The fall meeting is a five-day event with thousands of posters, oral sessions, keynote talks and seemingly endless side events. However, the cost of registration, hotel and travel mean that attending the meeting is just too expensive for many students. Moreno said that she is one such student and that without a travel grant, she wouldn't have been able to learn from others, and present her own research into whether artificial retention ponds can prevent salt-rich sediments from flowing downstream, entering waterways and potentially threatening farmland.
When she learned that she received the grant, her first thoughts were how grateful she was to have the opportunity to share that research.
"I remember sitting in class after getting the email thinking 'wow, I can actually go to San Francisco and present on the research that I worked so hard on!'"
The work she presented is based on a summer internship she completed with the United States Geological Survey (USGS) in Colorado this year. She said receiving feedback about her research from experts has galvanized her desire to continue into graduate school, earn a Ph.D. and eventually, work for a government environment agency such as the USGS or Environmental Protection Agency.
"When you're working on a poster leading up to a conference, you're thinking people might ask tough questions and tear you apart," said Moreno. "But I've been taken back by how friendly people are and the really great feedback they've given me."
The student travel grant that helped bring Moreno to the AGU Fall Meeting, is available to any student AGU member. The grant is funded by an endowment started by Jamie Austin, a senior research scientist at the University of Texas Institute for Geophysics. The funds are designed to help students recoup costs such as fees, hotel and flight tickets.
This year, Austin is challenging AGU members and the Earth and space science community to support future geoscientists by contributing to the Austin Endowment for Student Travel. Austin will generously match all donations to the Austin Endowment for Student Travel up to the amount of $1 million. With your support, we have the opportunity to create an endowment of $2 million to support students attending AGU Fall Meetings. Meeting this challenge is an opportunity, and we need your help.