The recent University of Texas Institute for Geophysics 2014 Employee Appreciation Luncheon featured a number of years-of-service honorees, special awards and recognitions for top research papers during the 2013-2014 academic year.
Dr. Terry Quinn, director for UTIG, presented the 2013 Director's Circle of Excellence award to Dr. Donald Blankenship, Dr. Kirk McIntosh, Dr. Peter Flemings, Dr. Sean Gulick, Dr. Joseph Levy, Dr. Brian Horton, Dr. Charles Jackson, Dr. Luc Lavier, Dr. John Snedden, Dr. Harm van Avendonk, Dr. Krista Soderlund and Dr. Cliff Frohlich.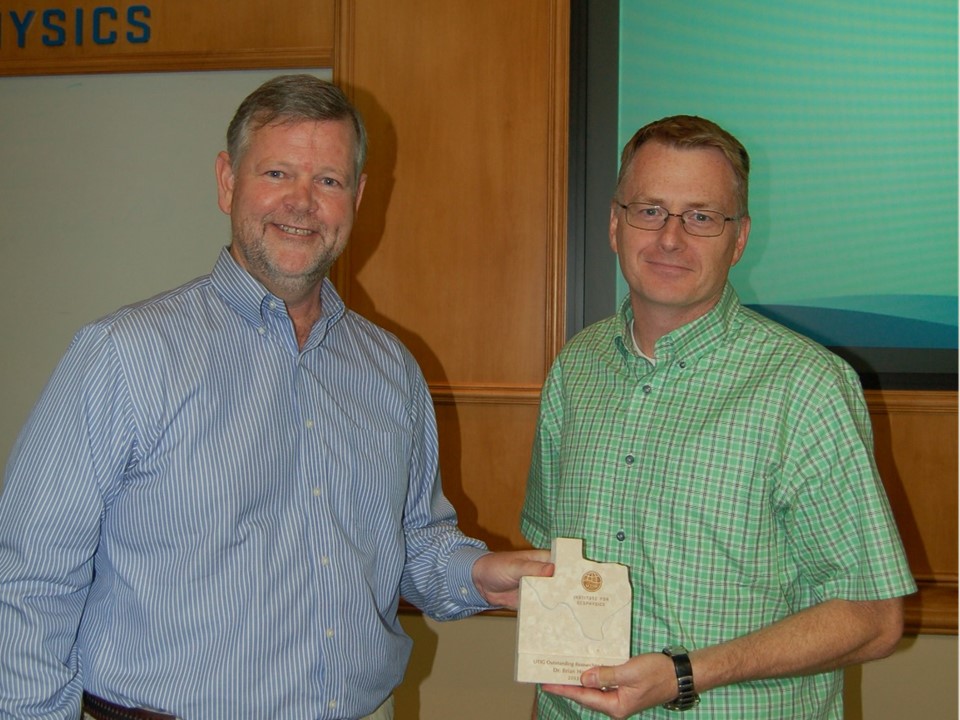 The UTIG Outstanding Researcher Award went to Dr. Brian Horton. The UTIG
Outstanding Young Researcher Award went to Dr. Joseph Levy and Dr. Krista Soderlund.
The UTIG Outstanding Support Staff Award went to Sheree Courney and Tom Richter. The Picard Excellence Award went to Mark Wiederspahn and the UTIG Career Researcher Award went to Dr. James A. Austin, Jr.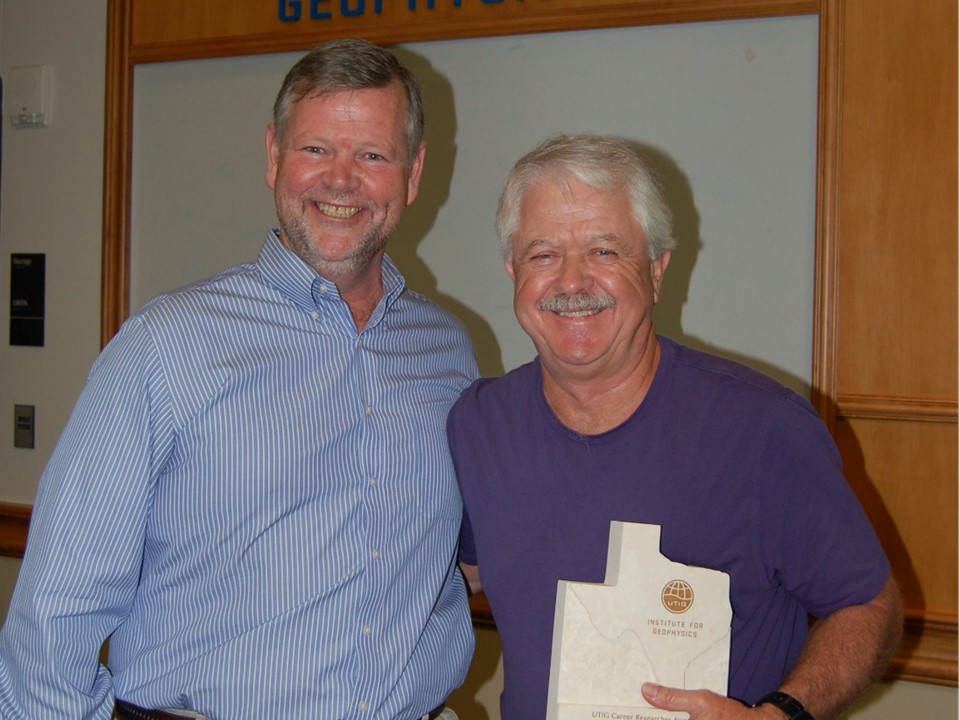 Research paper recognitions included the following:
2013 AGU Fall Meeting
Maureen LeVoir Walton – Outstanding Student Paper Award, "New mapping and structural constraints on the Queen Charlotte-Fairweather Fault system, Southeast Alaska"
JSG Research Symposium Awards
Julie Zurbuchen – Second Place, Undergraduate Best Poster Award, "Imaging Evidence for Hubbard Glacier Advances and Retreats since the Last Glacial Maximum in Disenchantment and Yakutat Bays, Alaska"
Joshua Davis – First Place, Early-Career Graduate Best Poster Award, "A New Tectonic Model for the Breakup of India and East Antarctica"
Michael Cronin – Second Place, Late-Career Masters Best Poster Award, "Core-Scale heterogeneity and dual-permeability pore structure in the Barnett Shale"
Marie Cavitte – First Place, Late-Career PhD Award, "Constraints on transient fast flow at South Pole in the last glacial cycle"
2014 Jackson School Best Graduate Student Paper Award
Dusty Schroeder, "Evidence for a Water System Transition Beneath Thwaites Glacier, West Antarctica"
Staff service awards were presented to Jamie Austin and Cliff Frohlich for 35 years, Larry Lawver for 30 years, Gail Christeson for 20 years, Kathy Ellins and Sean Gulick for 15 years and Rosalind Gamble for 10 years.
The event also included a slideshow featuring photographs from field expeditions during the past year.