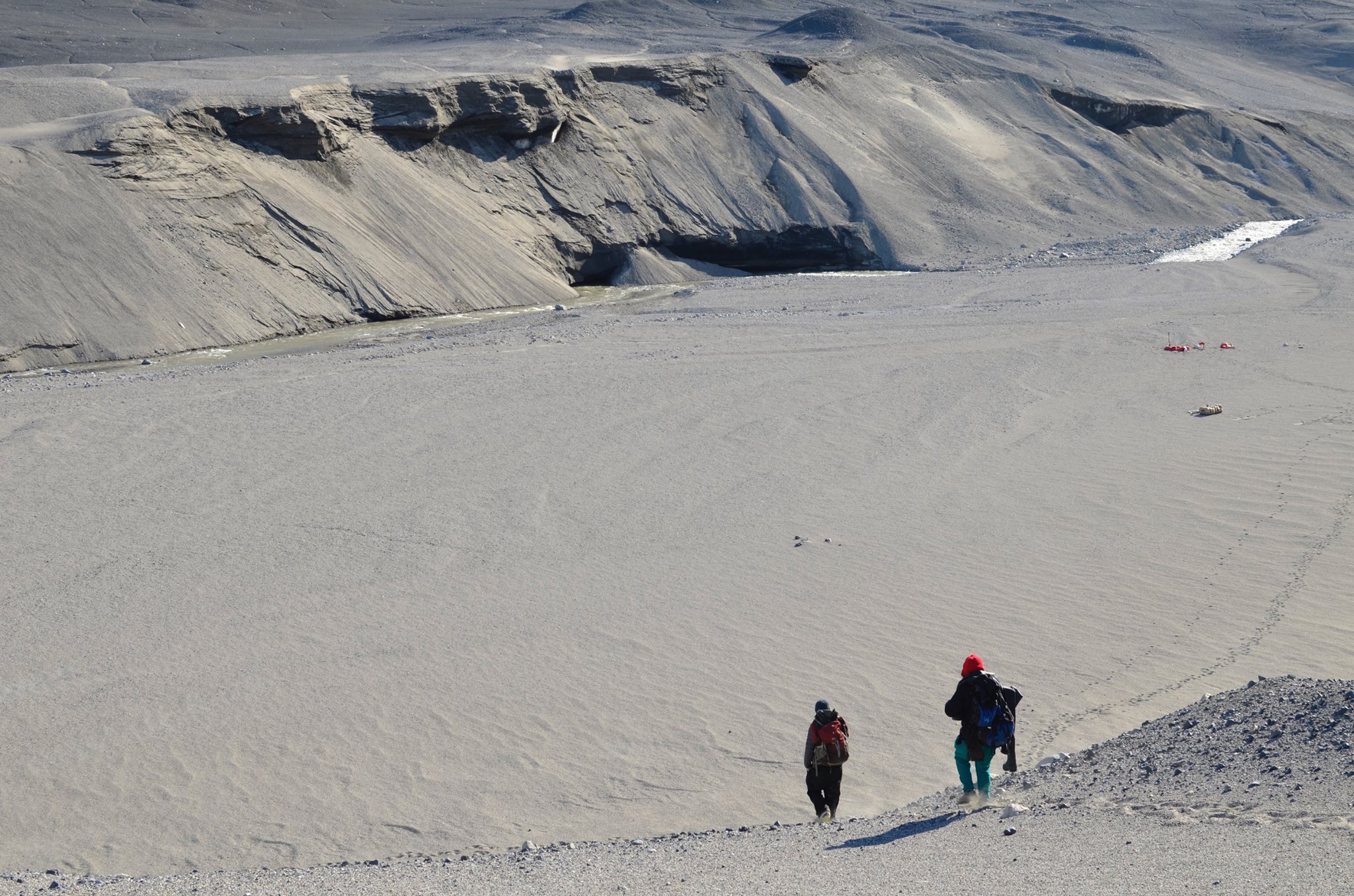 ---
In Antarctica's McMurdo Dry Valleys, scientists traverse landscapes that have been frozen solid for more than a million years. But on a recent expedition University of Texas scientists found that ice beneath the valley's soil is melting.
"It's easy to imagine Antarctica isn't changing. There is a perception that the Dry Valleys are ancient and stable, but not all of them are," says Joseph Levy, research associate at the University of Texas Institute for Geophysics (UTIG). "There are places where buried ice is melting 10 times faster than it ever has since the last ice age. On this expedition we experienced something totally new and different."
Old ice in Antarctica's Dry Valleys has been buried by glacial sediment since the last ice age, which is why it wasn't melting despite recent warming trends and changes to the surface energy budget. However, in recent years, erosion caused in part by the Garwood River exposed the ice and it started melting much quicker than expected. Why?
Jackson School of Geosciences undergraduate Logan Schmidt was also on the expedition taking tangential samples to to look at how water moves through soil. The scientists soon realized glacial sediment was no longer insulating and protecting the ice as it had been, but rather melting it by pumping heat into it.
"The understanding being when soil is dry it is a good insulator and helps prevent it from melting. But when soil gets wet it becomes a better conductor," says Levy. "Like using a cloth pot holder, it's great until it gets when and then it transfers heat instead of blocking it. In this way, Antarctica's own runoff is facilitating permafrost melt."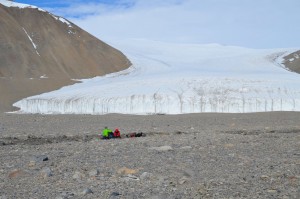 From there, Schmidt continued collecting soil samples to figure out where melted water in Antarctica is being routed to better understand where there will be more melt in the future.
The month-long research project was funded by the National Science Foundation (NSF) and included Schmidt and UTIG post-baccalaureate student Jackie Waters. The small team spent most of January and part of February 2016 in the Dry Valleys — a cold, desert-like section of the continent uncovered by snow and ice — collecting soil samples and taking measurements.
"I never imagined I'd have the opportunity to go to Antarctica. The offer came as a total surprise," says Schmidt. "Going in, everything I knew about the continent came from papers I read or documentaries and nature programs I'd seen. Nothing could have prepared me for the beauty of the continent, the unique people, the strange quirks of living at the bottom of the world — it can only truly be understood by spending time on the ice."
The expedition marked the second time in two years Levy conducted experiments in the McMurdo Dry Valleys, and his tenth season since 2004. Last year, in 2015, Levy was mapping the landscape from a Twin Otter airplane. This year, Levy used 3D maps created using that data to target where ice was melting and where ground was collapsing. The work is headed out of Portland State University by professor Andrew G. Fountain with Levy as co-investigator.
Though the main focus of the expedition was to measure melting rates in coastal Antarctica, Levy's group was approached by the National Geographic Channel about looking for signs of life in the coldest, saltiest, driest habitats in the dry valleys — analogous to looking for life on Mars. While recent research groups reported finding no signs of microbial life, marking the dry valleys as the limit of life on earth, Levy's group found evidence to the contrary.
National Geographic will take part in releasing that data later in 2016. For now, scientists have returned to Austin and remain busy cataloguing and analyzing collected samples. Though the implications of permafrost melt are concerning, Levy is encouraged by the findings and looking forward to the published research.
"Parts of Antarctica that have been stable since the last ice age are beginning to melt. Once this ice is gone, it is not renewable, it doesn't come back. You can bury it and that will keep it around longer but ultimately it is all going to melt out," says Levy. "Permafrost loss isn't just an Arctic and Alaskan problem; it is a global problem."