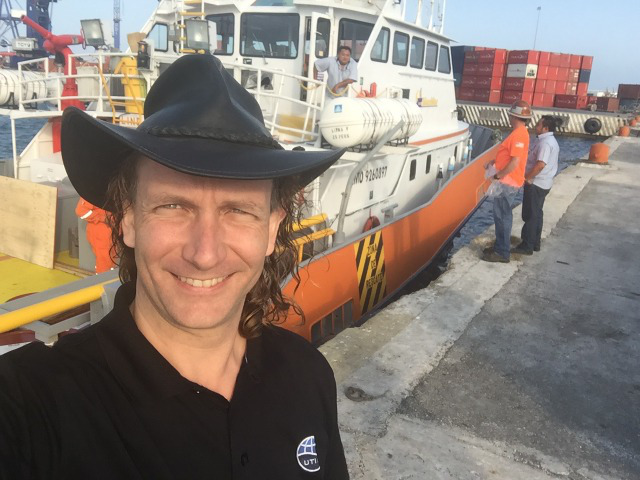 ---
University of Texas Institute for Geophysics Research Professor Sean P.S. Gulick arrived at the Chicxulub impact crater this week, and on Tuesday he offered his initial reactions to boarding the L/B Myrtle:
Viewing the platform (the Liftboat Myrtle) for the first time from the transport vessel Linda my immediate thought was, "Wow, she's really high above the water." I then thought about the possibility of storms while we are out here and decided perhaps the height above the water (~10 m or 30 ft) is a good thing!
In shallow water drilling you have to isolate the drill bit down in the hole from motion of the ocean otherwise you can't collect a nice clean core of rock to analyze. So the best option is to simply lift the drill rig above the water and be independent of the motion of the ocean.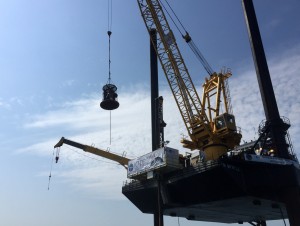 Next I got to observe the first group of scientists get on the basket that they lift upwards off the deck of the Linda and over the drilling equipment on the bow (front) of the ship and down into a spot on the port side to offload. To me it looked like a lot of fun!
When my turn came I looked around at least three times making sure I hadn't forgotten any of my bags or my hat since I was boarding the platform for weeks. The ride up in the basket was as thrilling as I expected and provided an amazing view of both the liftboard and the land-based drilling rig that is mounted on the front of the vessel. Very impressive looking operation but also not much free space anywhere on deck!
Once onboard it was a whirlwind of safety meetings, learning about the 6-man cabins we would stay in, touring the science labs, etc. However, I did have enough time to reflect on how excited I was to finally be at sea and drilling the central structures of the Chicxulub impact crater for the first time in history. I have been on more than 25 scientific cruises but never on one with as much potential for discovering something truly new. Whether the discovery will have to do with the recovery of life after the impact, the impact boundary layer here at ground zero 66.5 Million years ago, or the rocks that make up enigmatic peak rings never before sampled in any impact, I can't help but feel like we will learn something fundamental and likely surprising too.
Gulick will be on board the L/B Myrtle for the next few weeks serving as co-chief scientist for International Ocean Discovery Program expedition 364. For more information check back here often or follow along on the expedition blog.