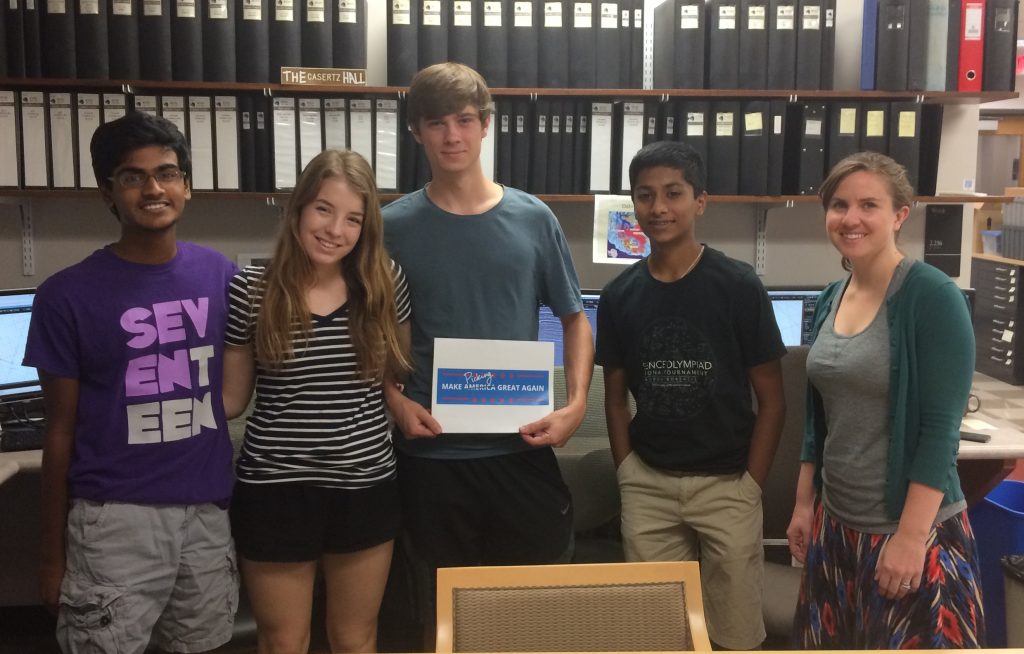 ---
Every Summer, UTIG hosts and supports a group of enthusiastic and bright high school interns. These students help UTIG research scientists, post-docs and graduate students with on-going research projects. In turn, they gain valuable exposure and insights into the world of academia and research, working with state-of-the-art equipment and the best minds in geophysics.
Many of these talented high school student interns are identified at the University of Texas (UT) Science Olympiad which is sponsored by UTIG. UTIG students also volunteer at the Science Olympiad and help expose young students to science, many of whom have gone on to pursue science majors at the University of Texas at Austin.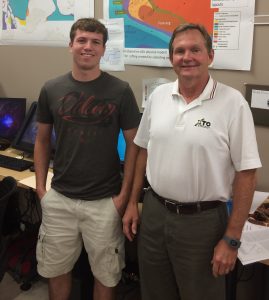 Cole Fowler from Brownwood High School has been working with UTIG senior research scientist John W. Snedden for the past month. Cole aspires to be a petroleum engineer and has been analyzing sub-surface pressure data from wells in the Gulf of Mexico made available by the Bureau of Ocean Energy Management (BOEM). Cole spent the summer compiling this data into spreadsheets, synthesizing it into plots and interpreting it to identify wells that are compartmentalized. This analysis could potentially assist and optimize drilling operations. "Cole is doing really well. He has been an asset to our group and has vastly exceeded my expectations. He has all the traits for a career in engineering – he is a hard worker and pays attention to detail," says Snedden. Cole has enjoyed his time at UTIG, saying "It's been an awesome summer. I've learned a lot and everyone has welcomed me here. I definitely would like to return next year."
Varun Sudunagunta, Rebekah Albach, and Shubhanga Ballal, from The Liberal Arts and Science Academy high schoool, and Robert Stephany, a mechanical engineering undergraduate at the Cockrell School in UT have been spending the summer under the guidance of UTIG graduate student Gail Muldoon. They (pictured above) are analyzing data from airborne ice penetrating radar in West Antarctica. The radargrams of the glaciers are being connected with two existing ice cores from the region, dating 90,000 and 68,000 years respectively. This analysis helps understand how the ice is changing with age in terms of geothermal flux and the flow. "It's been a great experience and we've had a lot of fun, too!" says Rebekah. Shubhanga added, "We've gotten an early exposure into research papers and have even submitted an abstract to the American Geophysical Union (AGU) conference on our techniques for analysis". Gail is happy to mentor the students, saying, "A lot of the students return to UTIG during subsequent summers even after graduation. They obtain valuable skills at UTIG that help them for their future in various fields, not just geophysics".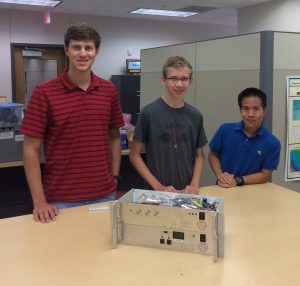 UTIG research scientist associate Gregory Ng has been mentoring Blake Karwoski, a mechanical engineering student from Texas A&M University, and Alec Schultz, a junior at LASA high school. They are working on equipment used to obtain the radargrams in Antarctica. Specifically, they are building improved instrument electrical power and radar receiver modules. They have been designing enclosures using CAD models, writing engineering design documents, assembling the components, all while learning how to manage an engineering project using industry methods. "I've learnt that while in the classroom, your work is usually limited to what you do over one semester, but in the real world it's important to use a continuing process so that the institutional knowledge lasts over time," says Karwoski. Gregory explains, "This is an eye-opening opportunity for the students to see how to organize people and projects in an engineering design process. It is a great complement to classroom knowledge."
You can learn more about Science Olympiad at UTIG here, or contact Enrica Quartini for more information.