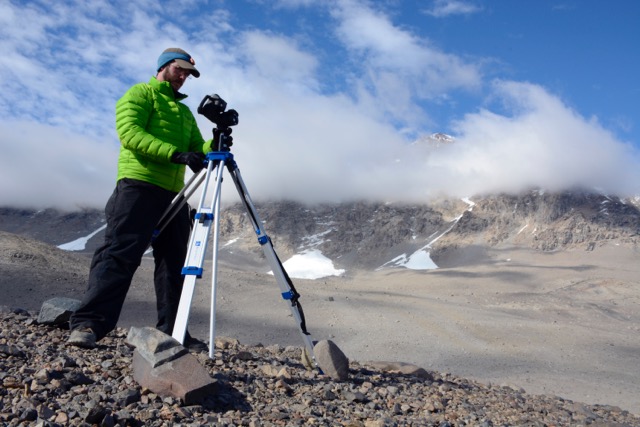 ---
For his research proposing to explore the mechanisms of erosion in streams and channels on Titan, Saturn's largest moon, University of Texas Institute for Geophysics (UTIG) Research Associate Joseph Levy has been named a NASA Early Career Fellow.
"Everyone knows how erosion works on Earth. You put cobbles or blocks of stone in a river and as they are tumbled downhill they get smaller and rounder. It's Geology 101 at its best. The NASA award is to explore the same process on Titan, where instead of rock there is ice and instead of water there is hydrocarbon soup," said Levy. "My proposal takes a fundamental geologic process and asks, 'how does all of this happen at 94 Kelvin?'"
The NASA Early Career Fellowship Program was established in 2005 to provide funding for non-tenure track scientists no more than seven years removed from receiving their Ph.D. UTIG's Krista Soderlund was named an early career fellow in 2015 for her research surrounding the internal dynamics and dynamos of Uranus and Neptune. Like Soderlund, Levy's successful proposal involves the solar system's outer planets.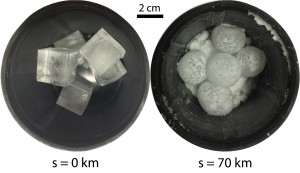 "In some ways, Titan is Earth-like. It has stream channels that transport rounded ice rocks as well as dunes made of sand, which raises the question: 'how did they get there?' So we're going to put ice cubes in a tumbler — similar to what a child would use to polish their rock collection — and roll them around at low temperatures (around 300°F below zero) and see what kind of sediment comes out," said Levy. "In our first experiments, the ice cubes broke down into tiny bits much smaller than sand grains. So the mystery we're trying to solve is what keeps rock on Titan from turning into a hydrocarbon snow-cone. In some ways out experiment is really simple. It brings a classical geological touch to outer planets geology."
Levy learned of the prestigious award February 6 while he was in Antarctica's Dry Valleys studying melting permafrost. As is common amongst early-career scientists, Levy submitted more than a dozen proposals that were eligible for the NASA Early Career Fellow Program before finally being accepted. Between six and eight grants are awarded each year, despite hundreds upon hundreds of applications received.
"NASA is recognizing UTIG's polar and planetary geophysics program as a growing research powerhouse," said UTIG Director Terrence Quinn. "Joseph Levy's selection as a NASA Early Career Fellow, following on the heels of Krista Soderlund being similarly recognized, is solid evidence our young scientists are building a bright future for the institute."
As part of the NASA-funded program, Levy will now have the opportunity to submit a second-step proposal for additional funding which will help UTIG involve more Master's and Ph.D. students in the program and bolster the institute's experimental facilities.
"I mostly study icy geology on Mars and Earth. This new research direction stemmed from a chance conversation with Devon Burr, and it looks like it's going to pay off," said Levy. Burr is a Titan expert at the University of Tennesee Knoxville, and is a co-investigator on the project. "It's a nice pat on the back from the funding panel and a strong signal that planetary scientists with a wide range of interests can come together to improve our basic understanding of the solar system. Now it's time to get to work to work on the second proposal to make the most of the opportunity."
For more information on NASA's Early Career Fellowship Program visit the official website.