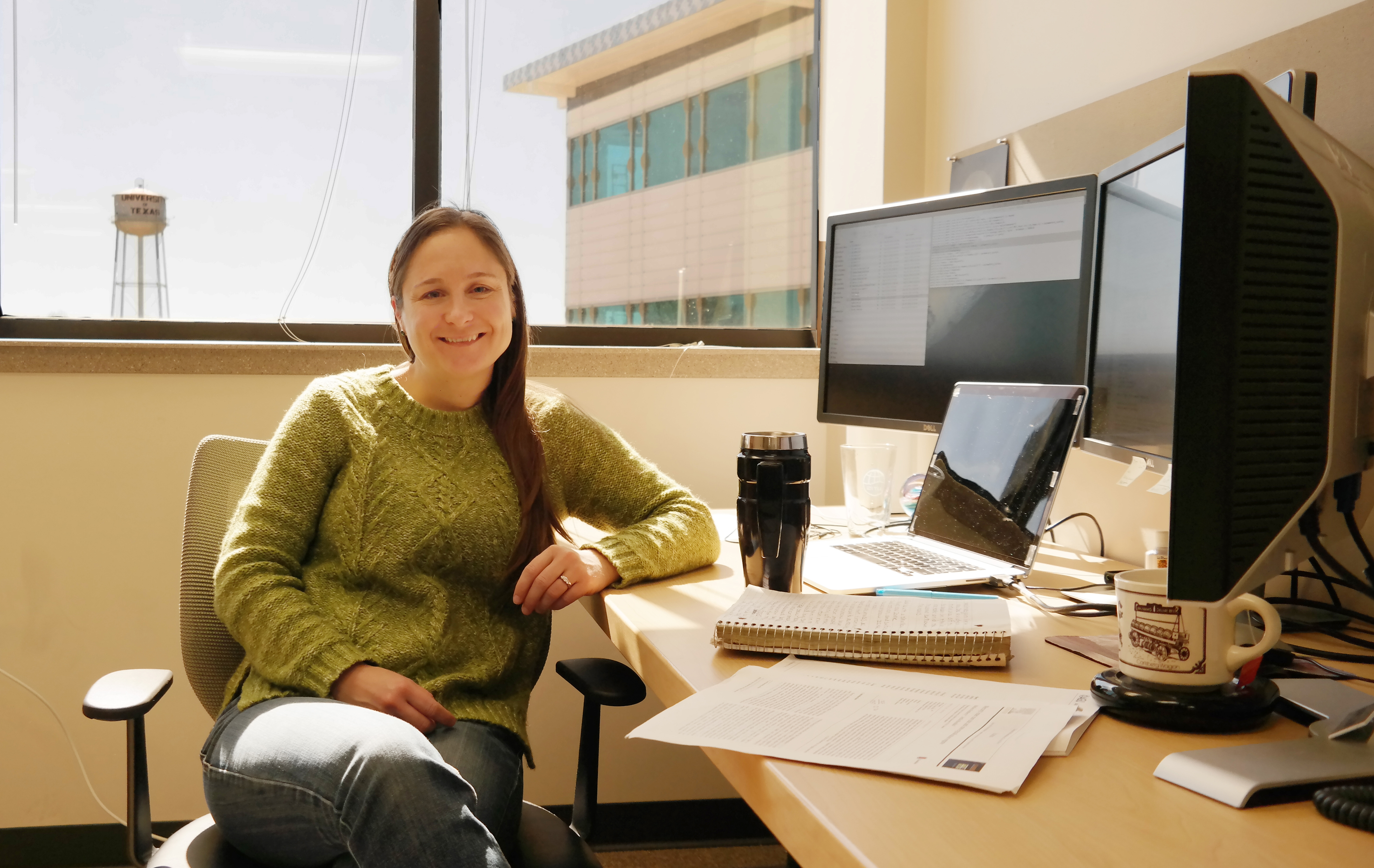 ---
NASA announced last week that Krista Soderlund has been selected as a member of NASA's Science Definition Team for Ice Giants Mission Studies. The team will build upon NASA's decadal survey that outlines goals for the planetary science community over the next 10 years.
Soderlund is a research associate at the University of Texas at Austin Institute for Geophysics (UTIG), a research unit of the Jackson School of Geosciences. At UTIG, she is a science team member for the ice-penetrating radar instrument selected for the upcoming NASA Europa Mission. Though Soderlund believes her experience studying magnetic fields in the deep interiors of Uranus and Neptune will be among her most valuable contributions to the science definition team.
"Compared to Earth, Uranus and Neptune's magnetic fields are quite unusual — they're off center and essentially tilted on their sides. This makes them fundamentally different from the Earth's magnetic field, which is similar to a bar magnet," said Soderlund. "My focus is on interior dynamics and coupling with the atmosphere to better understand why these planets are so strange."
The Ice Giants Mission Studies Science Definition Team is comprised of 14 members from across the United States and Europe. It is a one-year appointment that will address the goals of exploring ice giant systems and the engineering choices that will help accomplish those goals. It's also an opportunity for Soderlund to collaborate and share ideas with other like-minded scientists.
"NASA selects team members based on both breadth of knowledge and an ability to achieve the most science within the operational constraints of various mission concepts. Krista's selection is an affirmation of her scientific gravitas and respect in the field," said UTIG Director Terrence Quinn. "This is truly a remarkable achievement for Krista, and speaks volumes about the planetary geophysics program at UTIG."
NASA's 2013-2022 Planetary Science Decadal survey laid out three top priorities for flagship missions: returning a sample from Mars, understanding Europa's habitability, and exploring Uranus and Neptune. With the first two flagship missions on solid courses for completion, Soderlund believes it is time to look ahead to Uranus and Neptune.
"Uranus and Neptune are the only two planets of their kind in our solar system, yet ice giants appear to be the most popular type of planet in our galaxy. In that way, they're an archetype for other planets," said Soderlund. "Beyond having the opportunity to contribute to the science community, I want to help make a mission to Uranus and/or Neptune happen. It's the only part of the solar system we haven't explored in detail and it's important that we do so."
To learn more about NASA's Ice Giants Science Definition Team visit the program website.