Some 27,000 people have travelled to Washington D.C. this week to attend the largest annual gathering of earth and space scientists in the world. For students, attending AGU Fall Meeting is an incredibly enriching experience.
Getting up on stage in front of colleagues to give a talk, or standing in front of a poster detailing your research for several hours, is a big deal for anyone at Fall Meeting and can be a defining moment in a young scientist's career. Whether giving a talk or preparing a presentation there's more to AGU than just science.
"The AGU Fall meeting has become a huge networking place," says Jamie Austin, Senior Research Scientist at UTIG and one of AGU's foremost development champions. "It's like the old trade fairs in the Middle Ages. People would gather nominally to buy and sell things, but really it was a chance to get together. That's why AGU is so important: rubbing elbows with 27,000 colleagues over five days is an eye-opening experience for anyone attending, but especially for students."
The AGU Fall Meeting is a five day event with thousands of posters, oral sessions, keynote talks and other meetings and side-events. Attending Fall Meeting, however, is expensive. The cost of registration fees, hotel and flight tickets mean that for many students, especially those living outside the U.S., attending Fall Meeting without a travel support grant is just too expensive.
I challenge you to give a million dollars to get these kids to AGU Fall."
The AGU's Student Travel Grants program provides support for a few fortunate students. While the program has certainly helped, the need to do more continues to grow. Only 18% of nearly 1,300 applicants received travel grants for the 2018 Fall Meeting.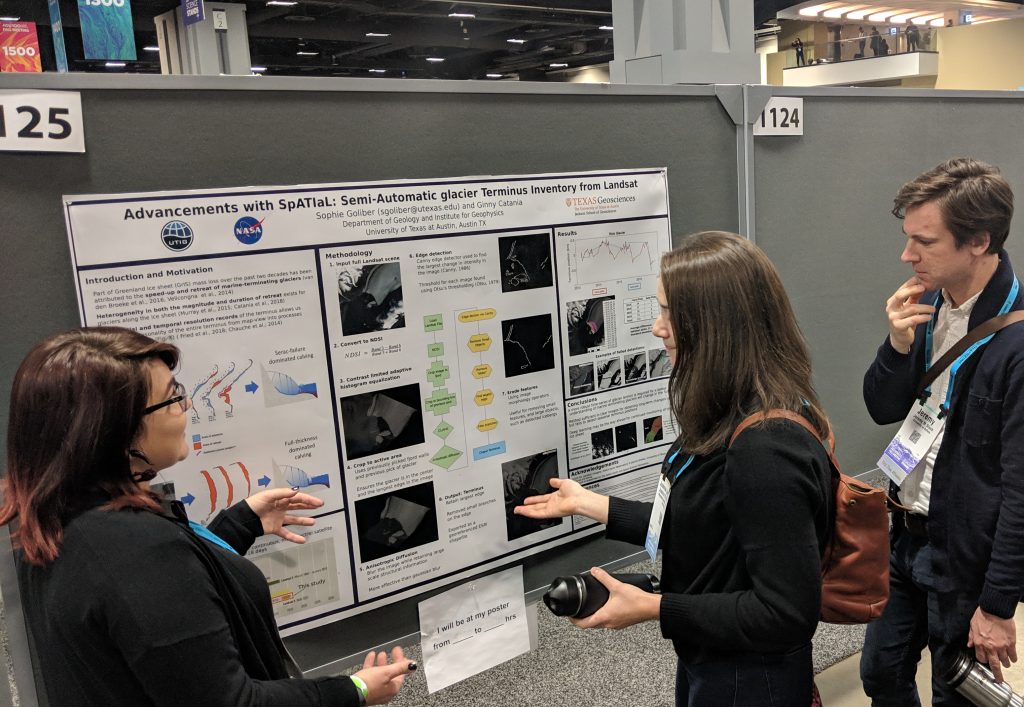 "There's clearly an unfulfilled need," says Austin. "A lot of these young professionals don't have access to resources to get to the meeting. It's an expensive meeting to attend and we need to augment the support that AGU's giving. So I'm saying to the membership: I challenge you to give a million dollars to get these kids to the Fall Meeting. If the membership gives a million, I'll give a million."
One of the students benefitting from an AGU travel grant this year is Patty Standring, an undergraduate student at the University of Texas Jackson School of Geosciences. Before deciding to become a geoscientist, Patty spent 10 years in the Air Force. She knew that the unique opportunities offered by Fall Meeting could permanently alter the course of her new career; however, the decision to attend had to be weighed against practicalities such as income and class schedules.
"As a veteran, I completely rely on the GI bill for my tuition and housing allowance. The little money I earn is completely dependent on the hours I am able to contribute. I have to weigh that very carefully with how much I need to study for my classes. When I realized how much it was going to cost me to go I decided to apply for the travel grant."
Being selected for a travel grant was a huge relief.
"I was very worried about covering my bills, but getting the travel grant really helped me feel comfortable with my decision to go. I feel very grateful that these grants exist, because it allows students to go to conferences who wouldn't normally be able to."
Ultimately, Patty was selected to present a poster about UTIG's Marine Geology and Geophysics Field Course (MG&G) in which she participated in May, 2018. Although Patty has experience with poster presentations from her time as a student at Austin Community College (ACC), this is the first time she will be presenting a poster on this scale.
"I know my professors feel confident about my ability to present information about the course but I am pretty nervous about doing the poster session. This is my first time at AGU and I feel a little overwhelmed. I'm pretty excited though and I've received some good advice from my advisor, so my goal is to see as much as I can while I'm there."
Patty presented her poster at AGU Fall Meeting 2018 on December 14.
Austin remains confident the membership will step up and help more students like Patty get to Fall Meeting.
"Philanthropy in the US is hugely important and has been for decades. The legacy of philanthropy in the US is probably stronger than anywhere else in the world."
Although each year members donate around $300,000, for a society with 62,000 members Austin believes more can be done.
"I think historically AGU members have under-gifted to the organization. I think part of this is that people don't understand what the Union does as an organization. They pay their registration fees for meetings and journals, but they don't quite get that there are things that AGU as an organization does in addition to this, such as helping to get students to attend AGU Fall Meeting."
The Austin Student Travel Fund was officially launched at AGU Fall Meeting this week to coincide with the start of AGU's centennial celebrations. Watch this short video to learn more about how your donation can make a big difference in our professional community.
WHO ARE THE NEXT GENERATION OF EARTH AND SPACE SCIENTISTS?
Patty is a Geophysics Undergraduate student at the University of Texas Jackson School of Geosciences.
She is due to graduate in Spring 2020 and hopes to go to graduate school to study marine geology and geophysics. Patty is from southern California and worked for 10 years as a Persian language analyst in the Air Force before deciding she wanted to change careers to something more science-oriented.
"UT has one of the best geology programs in the world so I moved here in 2015 with the intention of applying and hopefully getting in. After doing some pre-requisite courses at ACC, I was accepted as a transfer student for the Fall 2017 semester."
One of her most memorable moments as a student was spending a week at sea on a small research vessel with the UTIG Marine Geology & Geophysics Field Course in May 2018, an annual three-week, hands-on field course for graduate and upper-level undergraduate students providing hands-on instruction in the collection and processing of marine geological and geophysical data.
"The Marine Geophysics course is probably the most unique experience I've had at UT. It led to me doing research with Dr. Lowery, and I was able to go on a research cruise later in the summer with Dr. Gulick and Steffen Saustrup (a seismic technician) to gather additional seismic data on the Trinity River Paleovalley. It shifted my research interest from earthquakes to marine geology, and I feel more confident with my abilities because of the class. I feel very grateful to have had the opportunity."