The mid-latitudes of Mars are littered with numerous debris-covered glaciers, deposited some several hundred million years ago and composed of pure water ice under a surface debris layer. As a record of Martian climate history and a potential resource for future manned missions to Mars, they are of high interest to UTIG graduate students Tyler Meng and Eric Petersen. And since they can't travel to Mars, they look to the next best thing – Earth.
Sourdough Rock Glacier in Alaska bears a strong resemblance to those on Mars and has been studied by Jack Holt's group to learn more about our planetary neighbor. By better understanding how this glacier has formed and flowed over time here on Earth, they hope to gain insight into the glaciers in the mid-latitudes of Mars.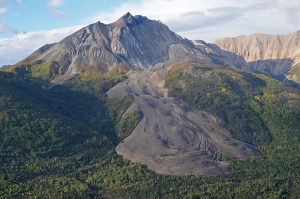 The glacier measures about 3 km long and up to 900 m wide and is often the site of summer field work, due to the more predictable and hospitable climate that time of the year in Alaska. But Tyler and Eric decided to head there during Spring Break, when temperatures are much lower and weather is still unpredictable, to test a new way to collect ground penetrating radar (GPR) data on the glacier.
"Historically we have had difficulty working on the surface of Sourdough Glacier. There are lots of little rocks, some big rocks, and all are completely loose," Eric said. "Because of that, we can't take the GPR equipment on wheels because of the loose surface."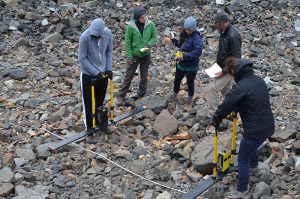 On sturdy surfaces, like a grassy field, the GPR can be placed on a wheeled cart and pushed by one person. This keeps the antenna in place as it moves and captures images automatically as it travels thanks to the odometer on board that triggers the camera.
But on Sourdough Rock Glacier, the team collecting the data must physically move the equipment little by little to capture a full image of the area. They must carefully measure how far they move and maintain the distance of the antenna the entire time. It is arduous, to say the least, and Eric knew that there had to be an easier way.
So along with Tyler, they thought, what if we go in winter? Thanks to a grant from the Jackson School's Off Campus Research Fund, they headed to Alaska in March to test their idea that the snow pack on the glacier would provide that smooth surface to pull the GPR along on skis.
"We had to build a sled to put it on. We had to improvise something that doesn't exist for this equipment," said Eric.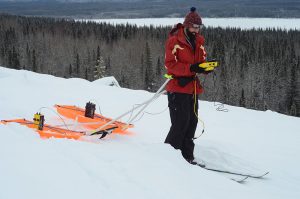 The two used pulk sleds, often used to carry equipment in wintry conditions, attached with PVC pipes and a harness for the waist. They could easily take it apart and put it back together to transport to and from base camp to the glacier along a narrow road. Then came the testing.
"It was a huge success," said Tyler of their trip.
They were able to gather over a mile of data over four days and the quality appears to be better than previous data sets, according to Eric.
"We were about three times as efficient at gathering data than the past (on the glacier). The data quality seems to look a lot better. I think that's because we're looking at a more cohesive geologic medium because the snow fills in the holes."
For now the two are doing some initial analysis of the data. Eric is planning use the data to map the bottom of the glacier and compare it to an electromagnetic data set they have as well. Tyler is focusing on the thickness of debris cover, in relation to compressive ridges and any sorting or rearrangement caused by the flow. He hopes to add to what we know about the internal structure of the glacier, including any internal debris layers, to constrain future models.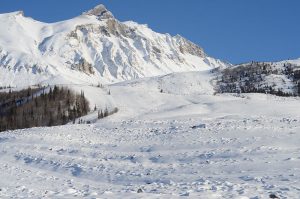 And while Eric finishes his degree this summer, Tyler plans to return to Alaska to continue gathering data in the winter with the lessons learned. They only mapped a small portion of the glacier along a stable and less steep area. Locals had warned them about persistent unstable avalanche conditions on the higher slopes. They did carry avalanche safety equipment and have experience in backcountry snow travel, something that they caution anyone going to Alaska to understand before heading out to do field work.
"We understand the process and logistics so much better," said Tyler. "We want to get higher up on the glacier, we know how to build a successful sled apparatus, and I learned what skis that I need. We can be more prepared (next time)."
You can see their instructions on building the GPR sled on Eric's website.