Patty is a Geophysics Undergraduate student at the University of Texas Jackson School of Geosciences.
She is due to graduate in Spring 2020 and hopes to go to graduate school to study marine geology and geophysics. Patty is from southern California and worked for 10 years as a Persian language analyst in the Air Force before deciding she wanted to change careers to something more science-oriented.
"UT has one of the best geology programs in the world so I moved here in 2015 with the intention of applying and hopefully getting in. After doing some pre-requisite courses at ACC, I was accepted as a transfer student for the Fall 2017 semester."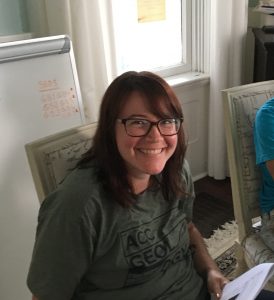 One of her most memorable moments as a student was spending a week at sea on a small research vessel with the UTIG Marine Geology & Geophysics Field Course in May 2018, an annual three-week, hands-on field course for graduate and upper-level undergraduate students providing hands-on instruction in the collection and processing of marine geological and geophysical data.
"The Marine Geophysics course is probably the most unique experience I've had at UT. It led to me doing research with Dr. Lowery, and I was able to go on a research cruise later in the summer with Dr. Gulick and Steffen Saustrup (a seismic technician) to gather additional seismic data on the Trinity River Paleovalley. It shifted my research interest from earthquakes to marine geology, and I feel more confident with my abilities because of the class. I feel very grateful to have had the opportunity."
In December 2018, Patty received an AGU travel support grant to attend her first ever AGU Fall Meeting, where she was selected to present a poster about the Marine Geology and Geophysics Field Course.
"Attending an event with 27,000 colleagues and literally thousands of presentations, talks and meetings," said Patty, "was an eye-opening, sometimes overwhelming experience."