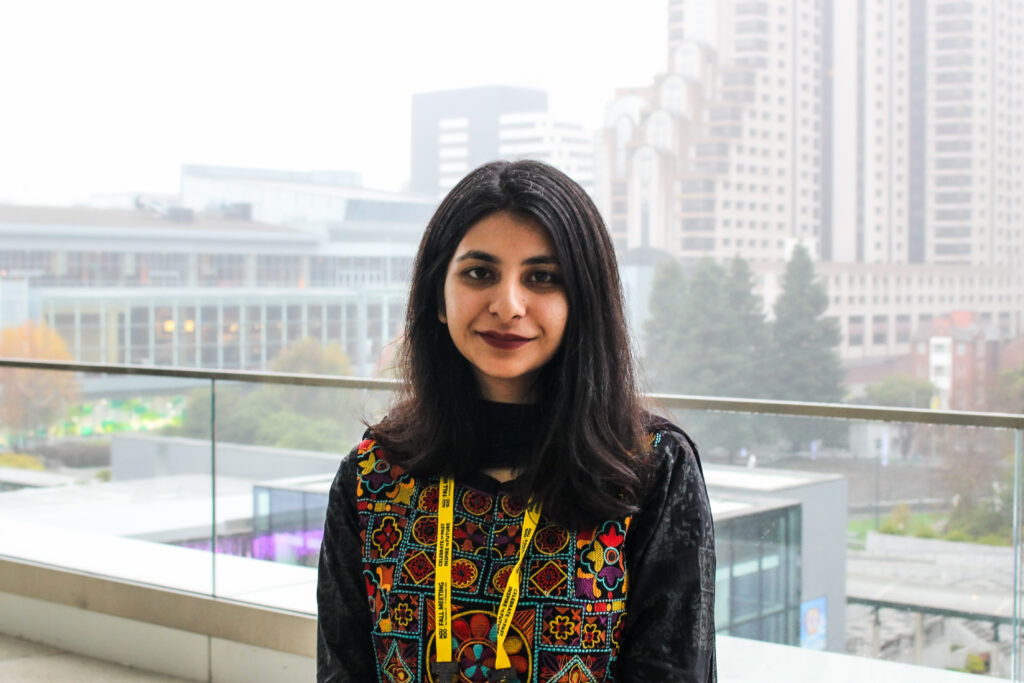 When Sara Hanan Chowdhury arrived in San Francisco earlier this week, she brought feelings of excitement and anticipation at seeing one of the world's best-known cities in a country she was visiting for the first time.
"Everybody dreams of visiting the U.S.," she said. "I was really excited when I arrived."
Chowdhury also brought with her a scientific poster outlining her master's research on the effects of climate change and migration in her home country of Bangladesh, where she is a graduate student at the Department of Disaster Science and Management of the University of Dhaka. Presenting her work to peers and academics at the American Geophysical Union Fall Meeting, the largest scientific gathering in the world, would not have been possible had she not had the support of an Austin Student Travel Grant.
The grant, which is available to any student AGU member, is funded by an endowment started by Jamie Austin, a senior research scientist at the University of Texas Institute for Geophysics. The funds are designed to help students recoup costs such as fees, hotel and flight tickets, which for many students, especially those like Chowdhury who live outside the U.S., can be too expensive without a travel grant.
Chowdhury explained that despite a great deal of doubt and hesitation, she told herself she had nothing to lose in applying for the grant.
"I was having coffee with some friends when I received the email," she said. "I think my reaction was 'oh my god I got it!'. It was like a dream come true!"
Attending a Fall Meeting for the first time can be a transformative experience for students. For Chowdhury it was an opportunity to meet with the broader scientific community from around the world and gain feedback about her work.
"Bangladesh is a still a developing country, so it is difficult to learn about advances in other countries," she said. "AGU has helped me build networks with fellow researchers from around the world, shown me what different universities offer and how I can pursue my studies."
Above all, Chowdhury believes that the opportunity to interact with other young scientists will benefit her career and personal development.
"Meeting people like me and learning about their accomplishments is really inspiring and has encouraged me to continue pursuing a career in this field," she said.
Jamie Austin is challenging AGU members and the Earth and space science community to support future geoscientists by contributing to the Austin Endowment for Student Travel. Austin will generously match all donations to the Austin Endowment for Student Travel up to the amount of $1 million. With your support, we have the opportunity to create an endowment of $2 million to support students attending AGU Fall Meetings. Meeting this challenge is an opportunity, and we need your help.