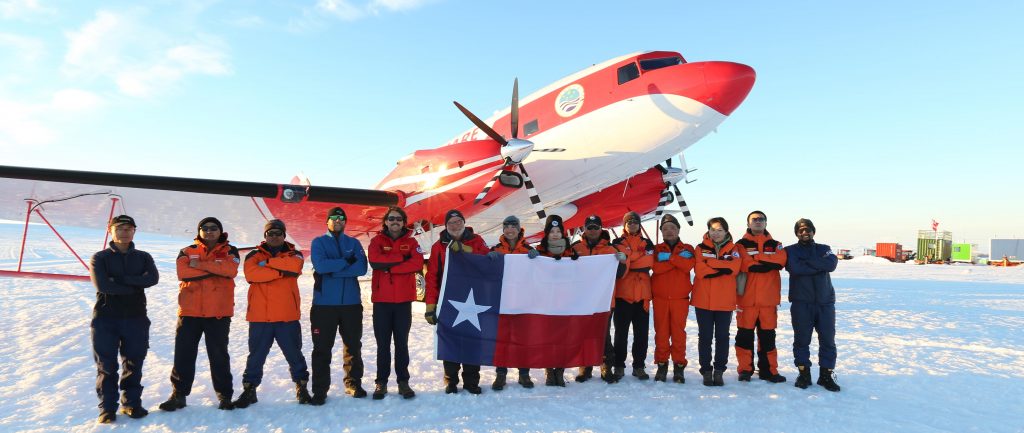 Jamin Greenbaum, a postdoctoral researcher at the University of Texas Institute for Geophysics (UTIG), has received a Fulbright U.S. Scholar Award to study how quickly coastal ice is melting in East Antarctica.
A veteran of twelve Antarctic expeditions, Greenbaum will spend the 2019-2020 academic year in Shanghai, where he hopes to grow two-way Antarctic research programs between China and the US.
"I'm excited that the idea to strengthen polar research linkages between the US and China has been welcomed," said Greenbaum. "China has been working hard to build state-of-the-art research and technical infrastructure necessary to really advance our understanding of Antarctica's future role in sea level rise," he added. "I believe that it is critical we work together to create strong interdisciplinary linkages that bridge geographic, cultural, and linguistic barriers."
Greenbaum's experiences in Antarctica reflect UTIG's efforts to act as an international hub for Antarctic geophysics research. He has been on Antarctic expeditions conducted from research stations managed by Argentina, Australia, Chile, China, France, Italy, Korea, Norway, the UK, and the US and is currently planning a campaign for the 2019-2020 field season, expected to include Australia, China, France, Italy, Korea, and, for the first time, Japan.
An international hub for polar research
Greenbaum says that UTIG's polar research efforts are motivated by scientific curiosity and managed in coordination with multiple international collaborators. This lends UTIG a significant advantage in flexibility, experience and expertise, allowing the polar geophysics research group to punch far above its weight.
Success has been earned through the partnerships UTIG staff have cultivated, coordinating expertise, tools and resources from the research programs of many countries. Such initiatives have already led to significant advances in how scientists understand the history of the Antarctic ice sheet as well as the interaction between ice and ocean in East Antarctica.
An important element in coordinating international Antarctic research is the ICECAP consortium (International Collaborative Exploration of the Cryosphere through Airborne Profiling), which UTIG's Don Blankenship started in 2008. Throughout the last decade, the consortium has organized a campaign of interdisciplinary surveys in an effort to document the East Antarctic Ice Sheet. ICECAP has revealed the shape, sea level potential, and areas of vulnerabilities within East Antarctica's vast Aurora and Wilkes Subglacial Basins among many other achievements documented in dozens of published articles.
Greenbaum's Fulbright research will similarly seek to coordinate skillsets and tools from various sources. "The Fulbright research is an outgrowth of a new initiative I'm very excited about," he explains. "Using the same paratrooper door used on the DC-3T's during the second world war, we've started deploying sensors into the ocean along glacier calving fronts and gaps in the sea ice. This has given us the first ever temperature and salinity information in areas that were previously too difficult to reach. Data from these sensors have opened a whole new avenue of research as we combine them with our traditional suite of aerogeophysical instruments."
What is airborne geophysics?
Airborne geophysics operations allow UTIG scientists to study the earth's gravity and magnetic field around Antarctica and measure the topography and depth of the ice sheet using ice penetrating radar and laser altimetry. Measurements are gathered using sensors mounted on specially converted DC-3s, known as Baslers, and helicopters. This allows UTIG polar investigators to gather high resolution scientific measurements across vast areas of the ice sheet, many of which are difficult to access by sea or land. Surface based sensors, however, allow scientists to measure how the shelf changes over time, giving insights into how rapidly ice is thinning. Greenbaum's goal is to complement available marine and icebreaker data with airborne geophysics which, when combined with ocean circulation models such as those developed by UTIG research professor Patrick Heimbach, will predict Antarctica's impact on global sea levels.
Greenbaum's Fulbright research is important because it creates an opportunity to strengthen research partnerships with China.
Why is China so important to Antarctic geophysics research?
Much of China's agriculture and industry lie along its coastline, leaving the country particularly vulnerable to even modest sea level rises. In response, China has rapidly increased its polar research presence and now spends more on Antarctic research than any other nation. Its current polar research plan prioritizes international engagement and in 2015 called on UTIG expertise to assist in their first ever airborne geophysics surveys.
Greenbaum has spent the last four field seasons with the Chinese Antarctic program where he has led experiment design and operations for aerogeophysics as well as training his Chinese colleagues. The Fulbright is a huge opportunity to build on this partnership.
"The award means a great deal to me because I see it as a platform to enhance the interdisciplinary and intercultural linkages that began with our earlier projects," he said. "It will be critical to integrating our ice-ocean interactions research with the School of Oceanography at Shanghai Jiao Tong University and the (Shanghai-based) Polar Research Institute of China. We plan to publish collaborative papers and, in the process, develop a new program of ice and ocean monitoring along the coast of East Antarctica with my scientific and operational partners in China."
Scientifically, Greenbaum expects to learn much from his hosts and hopes the project will lead to new applications in Antarctic physical oceanography. "I'm also interested in developing a curriculum to teach their students how to leverage geophysical data in their polar research."
For Greenbaum, a more lasting impact will come in the form of permanent research links with China. "I hope to learn how to best establish an ongoing, two-way research program between China and the US where students and researchers flow both directions to conduct fieldwork, analysis, and synthesis in productive, rewarding, and respectful environments on both sides of the Pacific."
Greenbaum's Fulbright research program begins in fall 2019.