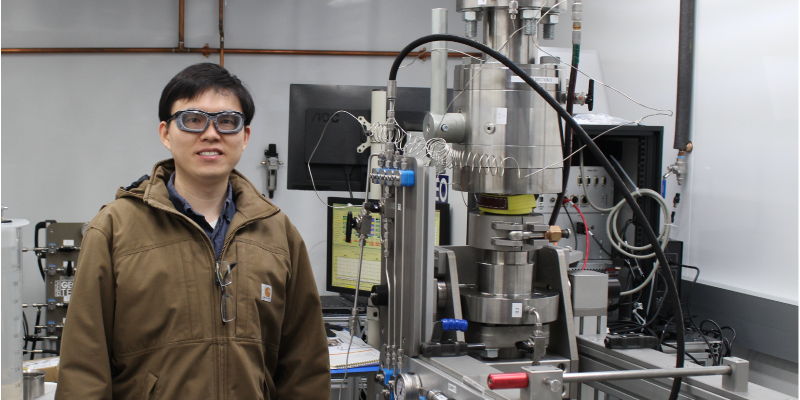 Yi Fang, a postdoctoral fellow at UTIG, will receive a Rocha Medal Runner Up Certificate from the International Society for Rock Mechanics and Rock Engineering (ISRM) during their annual symposium in June, 2020. The Rocha Medal and Runner Up Certificate are considered to be among the highest honors for young scientists in the field of rock mechanics and rock engineering.
Yi said he was surprised to learn he would receive the award because Rocha award winners include some of the field's best-known scientists, including his Ph.D. advisor at Penn State, Derek Elsworth. "I'm very happy and honored to be included among people who've had such a high impact," he said. "It's a big motivation to continue working hard and contributing to this field."
The Rocha Medal and Runner Up Certificate are awarded annually by the International Society for Rock Mechanics and Rock Engineering (ISRM) for outstanding doctoral theses.
Elsworth, a professor at Penn State, said that Yi's thesis had made important contributions to our understanding of how fluids move through the Earth's crust and become trapped in subsurface reservoirs, including their impact on generating seismicity. "It is fitting that he has been recognized for these important and growing contributions. The award is an exciting honor for Yi's student colleagues and of course a personal distinction of the first-order for Yi," he added.
As well as joining a very select group of high achieving scientists, Rocha Medal winners and runners up are automatically recognized as 'Future Leaders' by the American Rock Mechanics Association (ARMA). Impressively, however, Yi had already been inducted as a Future Leader. "I think it nicely illustrates his continuing efforts and achievements in the field of rock mechanics," added Maria Nikolinakou, a UT research scientist who works closely with Yi.
Yi's advisor at UTIG, Peter Flemings, said: "Yi fully deserves this recognition based on both his deep insights and his formidable research output. He is now applying his talent to illuminating flow behavior in methane hydrates, a promising potential future energy resource."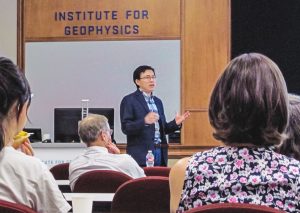 Methane hydrates, which are the focus of Yi's research at UT, are an ice-like material composed of methane molecules (and often other gases) trapped within water crystals. They typically occur naturally in cold, high-pressure environments, such as in deep ocean seabeds or under permafrost in polar regions. Vast methane hydrate deposits found beneath the Gulf of Mexico have the potential to power the US with natural gas for hundreds of years. Accessing the hydrates, however, is a problem, not least because the process by which hydrate deposits form and evolve is poorly understood.
Yi, and his colleagues at UT, have been working hard to resolve this. During a recent talk given at UTIG, Yi shared new insights into the physical properties of hydrate reservoirs based on their experiments with pressurized samples gathered from below the seafloor of the Gulf of Mexico during a UT-led expedition in 2017. Their work is building a clearer picture of how hydrates form and evolve in nature.
This research could also help techniques currently being investigated at UTIG to pump carbon dioxide into methane hydrate deposits as a way of releasing natural gas and simultaneously storing carbon dioxide, which is a greenhouse gas.

Yi's advice for young scientists at the start of their career is to look for important questions and not to worry about what might come next. "I had many frustrating moments throughout my Ph.D.," he said, "but if you set a firm target, work hard, and persevere, you'll get where you want to be."
The Rocha Medal has been awarded annually since 1982 to honor the memory of renowned rock physicist Professor Manuel Rocha. According to ISRM, which awards the prize, the Rocha Medal is intended to stimulate young researchers in the field of rock mechanics. The award includes a cash prize. The award will be presented to Yi at the 2020 ISRM International Symposium (Eurock 2020), in Trondheim, Norway.