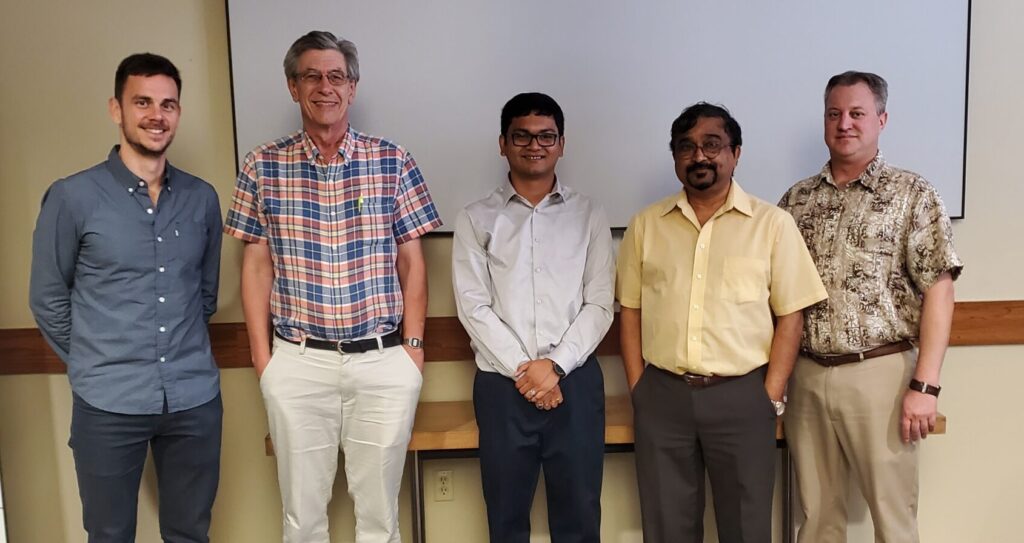 Work by researchers from the University of Texas Institute for Geophysics has been ranked among this year's top research by the Society for Exploration Geophysicists (SEG). Out of over a thousand papers presented at the society's annual meeting in San Antonio, those by Zeyu Zhao and Reetam Biswas were judged by members to be among the top twenty-five.
The award means that Zhao and Biswas will gain special recognition among the society's 14,000 members worldwide. They will also be invited to present their papers throughout the world at special events organized by the society's many regional sections and associate events.
Zhao, a research associate at UTIG who works on making seismic images of the Earth's subsurface computationally more efficient, presented a paper titled 'A Gradient Based MCMC Method for FWI and Uncertainty Analysis'.
Biswas, who worked on a similar research field at UTIG as a graduate research assistant until he graduated this Fall with a doctoral degree from the Jackson School, presented on 'Density Inversion from Seismic Using a Trans-dimensional Approach: A Field Dataset Example'. Having earned his Ph.D., Biswas said he will soon begin a job developing new algorithms for a numerical engineering company.
UTIG's associate director, Mrinal Sen, who co-authored the papers with Zhao and Biswas, said the pair had earned their place among the top twenty-five research papers of 2019.
"This recognition is important because the methods proposed by them, which were considered impractical not too long ago, are now applicable for routine data analysis from areas of complex Geology," said Sen, who also holds the Jackson Chair in Applied Seismology
Founded in 1930, the Society for Exploration Geophysicists is a not-for-profit organization with over 14,000 members in 114 countries. The society's annual meeting, which was held this year in San Antonio in September, brings together over 5,000 geophysicists from around the world to foster global connections and advance exploration geophysics.