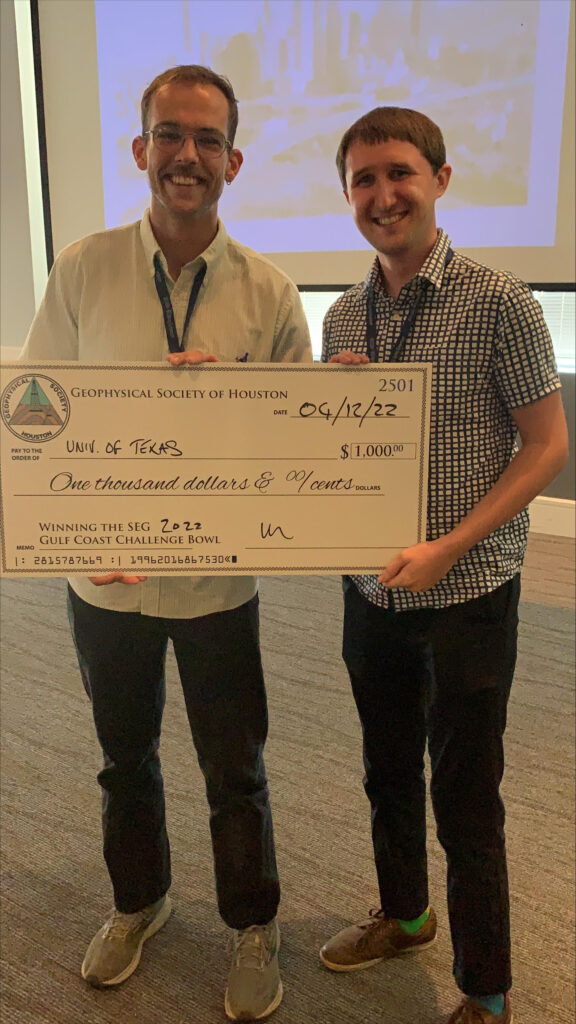 Last week, Jackson School of Geosciences graduate students Ethan Conrad and Edward Clennett claimed victory for The University of Texas at Austin at the 2022 Gulf Coast SEG Challenge Bowl – a quiz competition hosted by the Geophysical Society of Houston. Both students are also graduate research assistants at the Jackson School's Institute for Geophysics (UTIG).
The competition tests the general geosciences knowledge of university teams. Squaring off against the University of Oklahoma and the University of Houston, the UT Austin team comfortably took first place and the $1,000 cash prize.
"It was pretty fun and felt like being on University Challenge," said Clennett, referring to the popular British TV quiz show.
Just like the show, contestants had to buzz in their answers. The teams faced three rounds of multiple-choice general geophysics and geology knowledge questions.
"The questions covered a very wide range of topics in geology and geophysics, and the broad knowledge base between the two of us paid off," said Conrad, who is the president of the Texas Geophysical Society, the UT student chapter of the Society of Exploration Geophysicists (SEG).
Clennett said that his penchant for playing trivia at local spots around Austin probably helped too.
With the Gulf Coast win under their belt, Conrad and Clennett will now face off against other winning teams from around the world at the international finals at the SEG Annual Meeting in Houston this September.
A version of this story was first published on the Jackson School's News website, under media releases.