GBDS Partners with New Industry Members on Carbon Storage Projects
By Freja Cini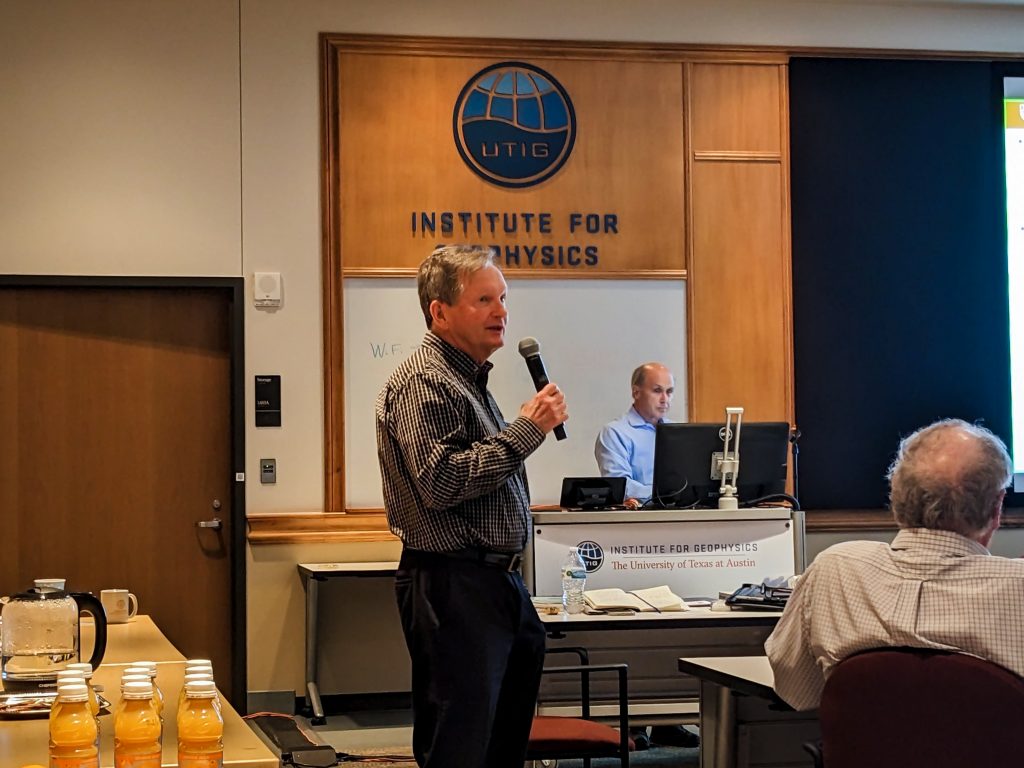 Carbon storage opportunities in the Gulf of Mexico were on the agenda in Jan. 2023 at the annual meeting of the Gulf of Mexico Basin Depositional Synthesis (GBDS) project, an industry-supported program led by the University of Texas Institute for Geophysics (UTIG).
The meeting also covered geothermal exploration, undergraduate research opportunities and introduced two new members of the GBDS team, project manager Summer Li and co-director Michael Sweet, who leads GBDS alongside John Snedden.
GBDS produces and maintains a detailed depositional history of the Gulf of Mexico basin. Industry partners use GBDS data to help guide exploration for oil and gas and, increasingly, geothermal energy and carbon storage.
The meeting, the first to be held in-person since 2020, sparked discussions on how GBDS research could aid in the safe storage of carbon dioxide, a greenhouse gas.
A NEW INITIATIVE—Carbon Storage
Carbon capture and storage involves capturing carbon dioxide emissions from different sources or the atmosphere and then injecting the greenhouse gas underground in a liquid form, where it's safely sealed away in geologic reservoirs.
One way that companies are looking at storing carbon underground is by repurposing oil and gas fields. At the meeting, the GBDS team shared how their ArcGIS software can be used to find which ones could be great sites for geologic storage of CO2. The database contains seismic data on the structural trends of abandoned reservoirs, as well as data on areas with low structural dips that are great for carbon storage, said Li.
"Right now, there are a lot of people who are focused on carbon capture and storage," said Li. "The Gulf of Mexico has great potential for carbon storage capacity, so a lot of people [in the meeting] were interested in comparing reservoirs."
Li said that in response to the high interest in carbon storage, GBDS has partnered with the Gulf Coast Carbon Center at the Bureau of Economic Geology and is now working on a joint project that focuses on seismic data interpretation in Louisiana for a possible carbon storage site. Last summer, GBDS also welcomed its latest industry member, NextDecade, which is the first time a company has joined the GBDS consortium exclusively for carbon storage projects.
Aside from NextDecade, GBDS's ArcGIS database also provides important support for carbon storage projects currently underway by major oil and gas partners such as ExxonMobil and Total.
Carbon storage isn't the only important addition to the GBDS portfolio. GBDS is also collaborating on geothermal energy projects.
"We've talked to a couple of small startups that are interested in producing geothermal energy and hot water from some of the units that we've mapped, like the Wilcox and the Frio," Sweet said. "We've had a big emphasis on looking at the deeper part of the basin but now we're looking at places closer to shore that are likely candidates for carbon storage or geothermal energy."
A NEW FUTURE—Undergraduate Research
These new partnerships are creating exciting opportunities for undergraduate students at the Jackson School of Geosciences, of which UTIG is a research unit. According to Sweet, the students get to work on individual research that will aid in improving GBDS's ArcGIS database and make it more useful for carbon storage and geothermal projects.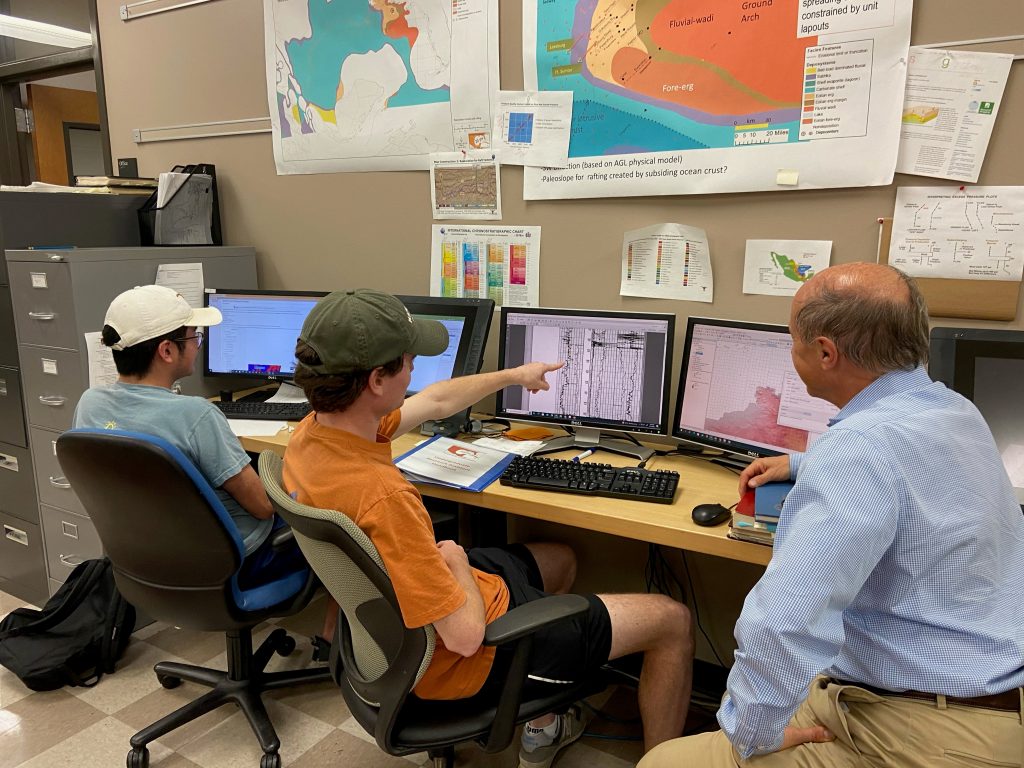 "It is a goal of [UTIG] to foster undergraduate research," Sweet said. "In the past, we've had the undergrads do tech work. We certainly need help with that, but we've been trying to make sure that every one of them has got a project with a research component that they can call their own. I think that's working out really well. They seem to enjoy it, and I feel like they're benefiting from it."
GBDS's increased student involvement is important because it provides industry-focused research experiences for undergraduates. That means taking classroom knowledge and applying it to real-life settings, which requires critical thinking and problem solving to succeed.
For undergraduate research assistants such as Jake Margoshes, GBDS is a first chance to do scientific research and apply classroom concepts to specific goals.
"Last spring, Dr. Sweet and I started research on Mississippi Canyon," said Margoshes. "Some of the most valuable experiences I've had in my time here are being able to learn from experts in their field and working with industry-related data, like seismic and well-log data."
Visit our FlickR album for more pictures from the meeting.