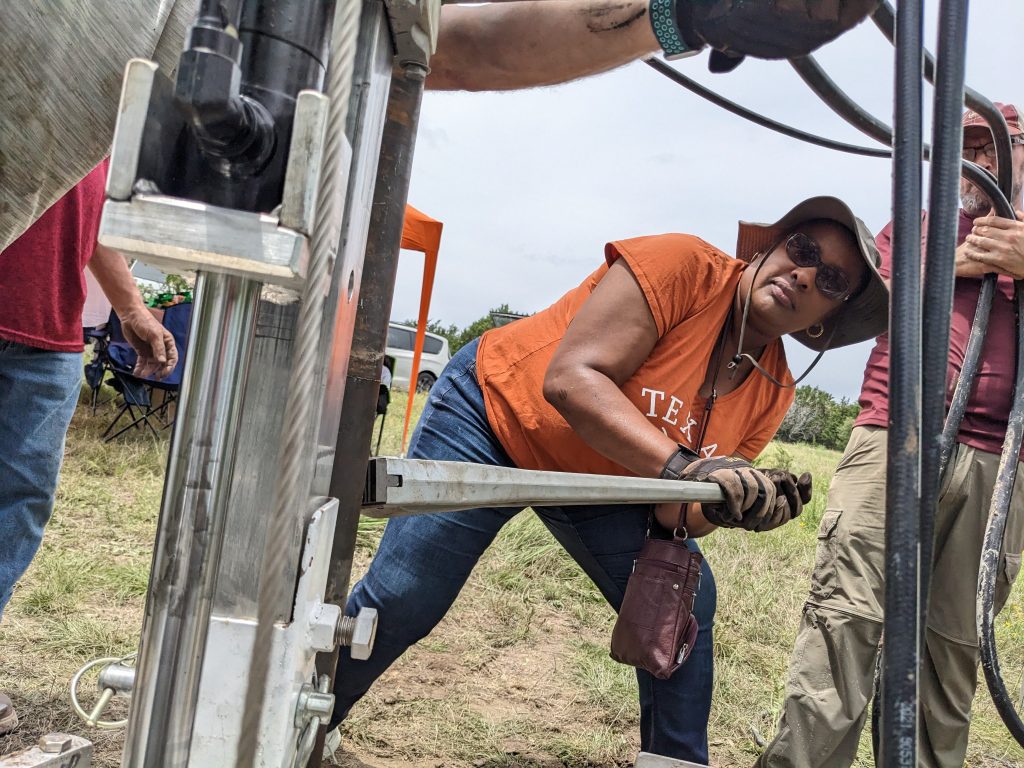 Most weekdays, Rosalind Gamble is found at her desk running business operations for over a hundred researchers and students at the University of Texas Institute for Geophysics.
But today she's in a field in the Texas Hill Country, cranking a 14-foot coring drill with an enormous wrench. In a few moments, the rig will come to life and, with Gamble's help, recover three feet of pristine limestone core from 30 feet underground.
"I felt this anticipation of 'what lies beneath' as we were drilling," Gamble said. "I was excited to see what the next core would tell us, it was so much fun taking part!"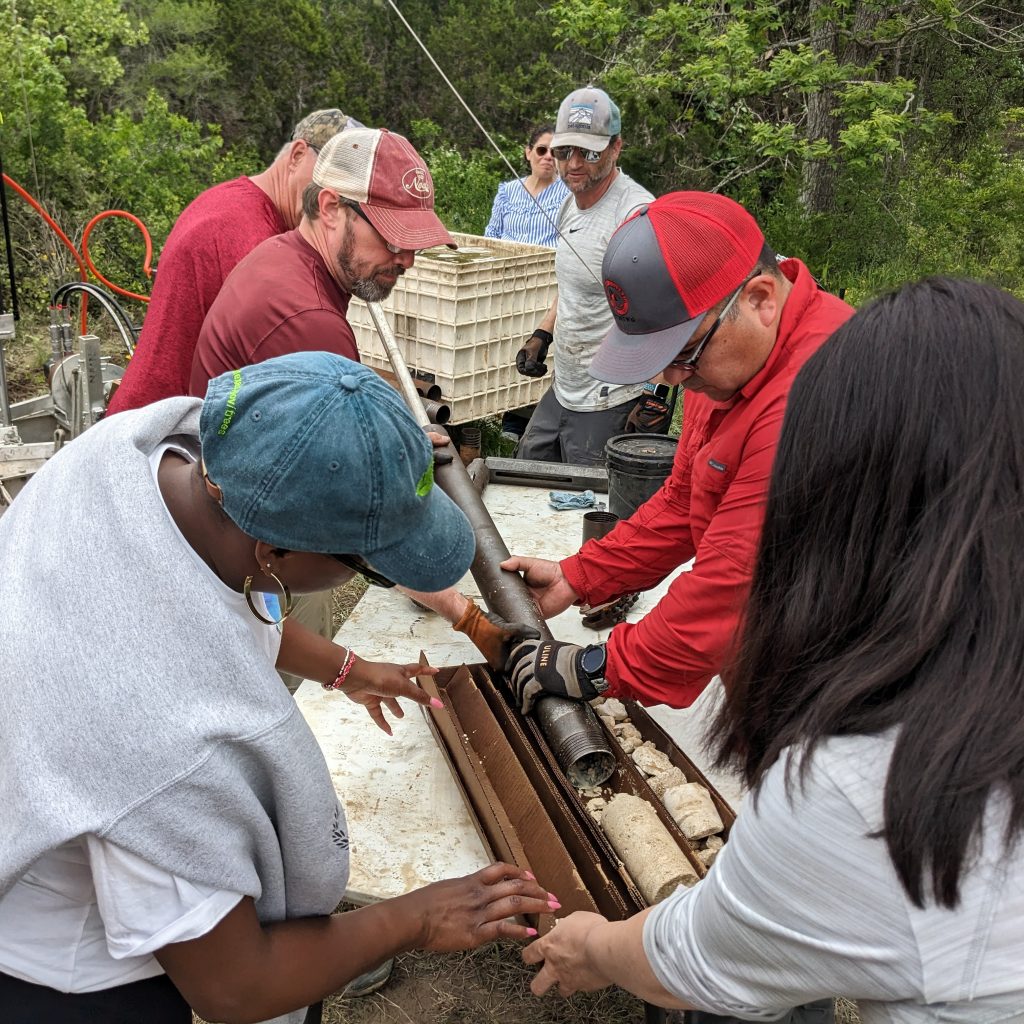 The core sampling is both a technology test of UTIG's Ultra-Portable Coral Coring Drill and a hands-on demonstration for UTIG's administrative staff — many of whom have worked years on the drill's development but are only seeing it in action for the first time today. According to Gamble, the experience gave her and the rest of the administrative staff a stronger sense of purpose about the part they play in UTIG research.
Jud Partin, a UTIG research scientist who's leading today's coring test at the Jackson School of Geosciences White Family Outdoor Learning Center, said that this sort of research wouldn't be possible without them.
"The UTIG admin team is among the most effective in the business, and they help bring our science to new levels," Partin said. "This kind of activity helps us understand each other better and lets people who've worked for years behind the scenes experience the product of their effort."
The drill is one-of-a-kind and was co-developed by Partin and UT colleague, Fred Taylor (now a research scientist emeritus) to provide a portable yet powerful option for recovering buried fossil corals on islands in the equatorial South Pacific. The fossil corals hold geochemical markers that tell scientists what ocean conditions were like when the coral grew. Finding intact corals is tricky however, because the likeliest spots to look for them are on rugged terrain — too deep in the Earth for handheld drills, and inaccessible to larger mobile rigs or drill ships.
An earlier prototype was trialed in the island nation of Vanuatu in 2019, where it helped Partin and colleagues recover corals that lived up to 15,000 years ago. The new drill being demonstrated today is lighter and more reliable. The team will be shipping it back to Vanuatu this summer where their goal is to recover corals that can serve as a record of climate change throughout the last ice age.
Benjamin Hester, an administrative services officer, has been involved in the drill's development almost from the start. Today, Hester's been busy digging drainage trenches, filling water tanks, and loading and unloading drill pipe.
"It's nice to finally see the drill in action after years acquiring the parts to build it," he said.
Hester said he looks forward all year to UTIG's admin field day events (last year's was a marine geophysical survey of Lake Austin) and this year was no exception.
Sara Sieberath, assistant director for research administration and finance, said that seeing the drill in action didn't change her idea of the importance of research at UTIG, but it did satisfy her curiosity about how the science works.
"It's no longer some nebulous thing, it's something real," she said. "When we interact with researchers it's typically to help them work through things that they don't enjoy so much, so it's cool to see them in their nerdy bliss!"
Learn more about how UTIG researchers use ancient corals to learn about today's climate change, El Niño, La Niña Rising.
More photos at our FlickR album.