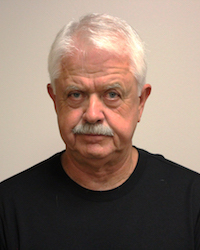 SENIOR RESEARCH SCIENTIST
Jamie is a seismic stratigrapher and has worked on sedimented continental margins (both passive and convergent) around the world with colleagues and students since the late 1970s. Recent surveys have taken place offshore of Israel in 2011 and 2015, and offshore of the east coast of the United States in 2015. Other areas of continuing interest include the convergent margin offshore of Sumatra.
Jamie is the Chair of the International Ocean Discovery Forum from 2015-2017. He also served as UTIG Associate Director from 2012 – 2017.
INTERESTS
continental margin stratigraphy, tsunamigenesic processes on continental margins, scientific ocean drilling
ACADEMICS
Ph.D., Massachusetts Institute of Technology — Woods Hole Oceanographic Institution
B.A., Amherst College
CONTACTS
Phone: 512-471-0450
Email: jamie@ig.utexas.edu
Office: 3.254
Curriculum Vitae
Publications