RESEARCH SCIENTIST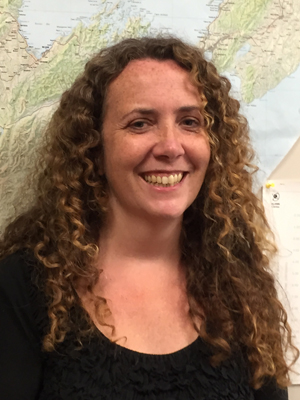 Laura uses geodetic methods to investigate deformation of the Earth's crust at plate boundaries. She conducts research at various locations, including New Zealand, Papua New Guinea, Solomon Islands, and Japan. In 2002, Laura was the first to record slow slip events in New Zealand's Hikurangi Margin subduction zone. Investigating slow slip events at subduction zones has remained central to her research ever since. She uses both land-based GPS methods and seafloor geodetic instruments to investigate seafloor deformation in offshore slow slip events.
In 2018, Laura was co-chief scientist on IODP's expedition 375, onboard the research vessel JOIDES Resolution. The expedition investigated the causes of Hikurangi slow slip events and acquired core samples and geophysical logs from an area of slow slip activity, and installed subseafloor observatories to monitor changes in the crust throughout the slow slip cycle.
In addition to being a research scientist at UTIG, Laura holds a joint position at GNS Science, New Zealand.
INTERESTS
tectonics, crustal deformation, earthquakes
ACADEMICS
Ph.D., Earth Sciences, University of California, Santa Cruz
B.S., Geology, University of North Carolina at Chapel Hill
CONTACTS AND LINKS
Email: lwallace@utexas.edu
Curriculum Vitae
Publications
HIGHLIGHTS
FEATURES
---
Earthquakes are unpredictable natural disasters. UTIG researchers are working to change that by learning all they can about the subduction zones that generate the most destructive ones.