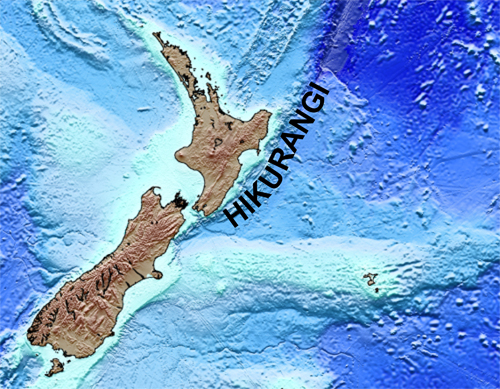 Hikurangi 3D Goals and Details
Cruise and Field Research Blog (Coming Soon)
Background
The Hikurangi margin lies along the eastern edge of the North Island of New Zealand, where the Pacific plate subducts beneath North Island.
The Hikurangi Subduction Zone is an important location for scientific research of plate tectonics and earthquake seismology. GPS data show a transition in slip behavior from predominantly stick-slip in the south to aseismic creep in the northern North Island. More geological and geophysical data are needed to understand what characteristics of the tectonic plates may cause such along-strike variations in subduction-related processes. You can watch a short video about New Zealand's largest fault zone courtesy of GNS Science.
In 2016, scientists from the United States, New Zealand, Japan and the United Kingdom started collaborating on two major seismic studies of the Hikurangi margin to evaluate the geological conditions that govern the style of slip and other long-term deformation. To investigate the feedbacks between deformation, fluid flow and solid mass fluxes, results from seismic data analysis will be integrated with geological field studies of landscape evolution, paleoseismology, and geodynamical modeling of subduction zone processes. In 2017, proposed scientific drilling expeditions offshore the Hikurangi margin would provide important data and logging measurements from drill holes into the subduction megathrust and the incoming sediments.
Useful Links