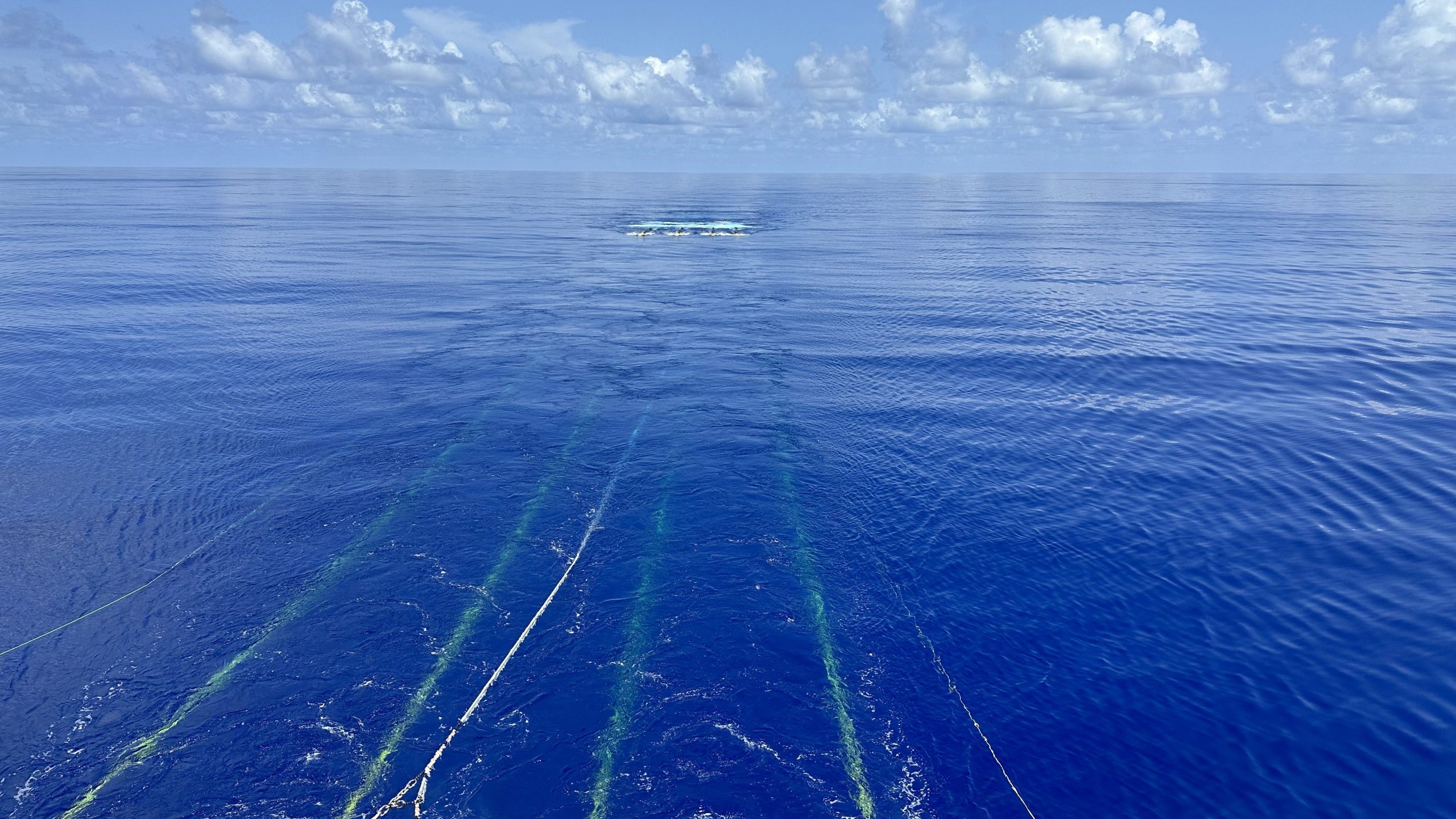 In August, 2023, scientists from the University of Texas Institute for Geophysics and partner universities led a research cruise off the coast of Florida on a mission to survey tectonics in Earth's crust, deep beneath the ocean floor. Their target was a large, submerged plain known as the Blake Plateau where the researchers hope to learn about the break-up of the Pangea supercontinent and its tectonic legacy.
Expedition Blake Plateau General Information
Location: Blake Plateau, western Atlantic Ocean
Dates: August, 2023
Chief Scientist: Harm Van Avendonk
Expedition Summary and Scientific Objectives
The Blake Plateau and Carolina Trough present a scientifically rich contrast, where the Blake Plateau's continental margin is significantly wider than that of the Carolina Trough. Our work, with data derived from existing IODP data, previous studies, Multi-Channel Seismic (MCS) fieldwork, and Ocean-Bottom Seismometer (OBS) fieldwork, holds the potential to explain the difference in the rate and magnitude of seafloor spreading between the two areas. We would like to better characterize the mechanisms behind the rifting and drifting behaviors that jointly drive the region's crustal movements; in short, we seek to quantify the differential rupture of the continental lithosphere at these two adjoining rift segments.
In addition to rifting and drifting, we also call into question magmatism below the Blake Plateau and Carolina Trough, considering primarily the Central Atlantic Magmatic Province. Where some of the crustal movements are caused by seafloor spreading that pushes the crust away from the midocean ridge, any other phenomena could be explained by isostasic drifting of the crust atop the magma of the mantle asthenosphere.
Fieldwork
Our fieldwork this summer utilized MCS and OBS techniques, both conducted aboard the R/V Marcus Langseth, to quantify the seismic reflection behavior of the study region. The data, post-quality control, binning, and in combination with bathymetry studies, will illuminate via differences in wave speed the profile of each component of the Blake and Carolina rift segment subsurfaces.
Science Party
Harm Van Avendonk
Chief Scientist on the MCS and OBS cruises
University of Texas Institute for Geophysics
harm@ig.utexas.edu
Nathan Bangs
Chief Scientist on the MCS cruise
University of Texas Institute for Geophysics
nathan@ig.utexas.edu
Anne Bécel
Chief Scientist on the MCS cruise
Lamont Doherty Earth Observatory – Columbia
annebcl@ldeo.columbia.edu
MCS Cruise Team
Chiara Amadori
Scientist
University of Pavia
Savas Gurcay
Scientist
University of Alabama
Zeyu Zhao
Scientist
University of Texas Institute for Geophysics
Sabrina Reichert
Graduate Research Assistant, blog lead for MCS cruise
UT Austin Jackson School of Geosciences
Susie Adams
Graduate Research Assistant
University of North Carolina Wilmington
Jue-Ying Chen
Student
National Taiwan University
Adriana Paez
Graduate Research Assistant
California Institute of Technology
Bright Osuagwu
Graduate Teaching Assistant
Midwestern State University Kimbell School of Geosciences
Anastasiia Krysova
Student
The Ohio State University School of Earth Sciences
OBS Cruise Team
Alan Gardner
Scientist
Woods Hole Oceanographic Institution
Dan Kot
Scientist
Woods Hole Oceanographic Institution
Ranpeng Li
Graduate Research Assistant, blog lead for OBS cruise
University of Florida
Savannah Evans
Student
College of Charleston
Victor Obi
Graduate Research Assistant
Kent State University
Tawfic Yakubu
Graduate Research Assistant
Northern Arizona University
Elika Zilis
Student
Western Washington University
Expedition Blog
The expedition's fieldwork was documented by Sabrina Reichert and Ranpeng Li.
Contact
Harm Van Avendonk
Senior Research Scientist
University of Texas Institute for Geophysics
harm@ig.utexas.edu