The University of Texas' Institute for Geophysics (UTIG) became a Silver Sponsor this year for the Science Olympiad, an annual national competition built upon science-themed challenges for middle school and high school students.
The mission of Science Olympiad is "increasing student interest in science, creating a technologically literate workforce and providing recognition for outstanding achievement by both students and teachers," as stated on the organization's national tournament brochure.
The idea for UTIG's sponsorship in the national tournament started with Dustin Schroeder, who had been with UTIG as a graduate student and earned his PhD from the University of Texas at Austin in May.
Schroeder himself has a long history with the Science Olympiad. He began competing as an eighth grader in the Astronomy event and continued for the next four years through high school, winning first place nationally on two occasions.
After that, Schroeder has remained involved with the competition as an event coordinator for many years and, after relocating to Texas, as coach of a Science Olympiad high school team in the Austin area.
That involvement with the Science Olympiad reached a new level this year. After meeting with UTIG Director Terry Quinn, the two men helped establish UTIG as a sponsor of the competition's Earth and Space Science events, including sponsored scholarship awards.
"Terry was really involved in giving the resources to not only give the scholarships but to pay for some of the travel and development of the event," Schroeder said.
This year's Science Olympiad National Tournament was held at the University of Central Florida in Orlando.
In a statement on its website, the Science Olympiad organization outlined the importance of sponsors to its efforts: "Science Olympiad is privileged to have sponsors who are true partners in our mission.  Each of the corporations, associations and groups listed has a vested interest in improving the quality of K-12 science education, creating a technologically literate workforce and providing recognition for outstanding achievement by both students and teachers."
Schroeder represented UTIG at the 2014 Science Olympiad National Tournament, presenting a $1,000 scholarship to both of the Division B (grades 6-9) Earth and Space Science winners, who were eighth grade students.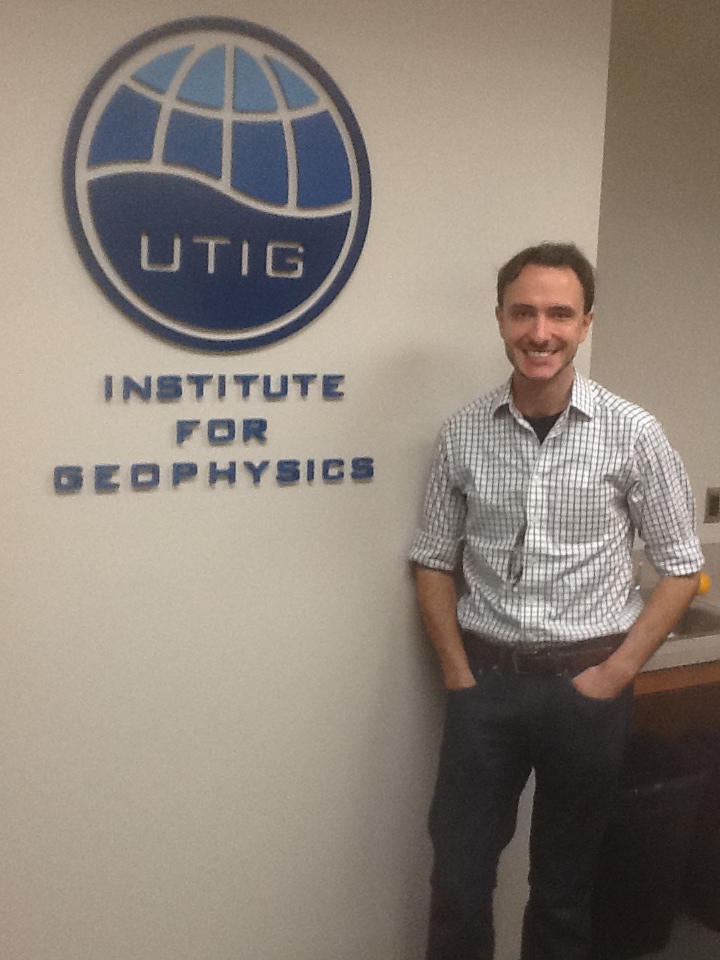 For Schroeder, this year's national tournament and his role as a sponsor representative carried a strong personal significance.
"It's interesting how I'm ending up bringing it back through this arc to space science," Schroeder said. "This same competition in astronomy was what originally got me interested in school at all and going to college at all.
"To go through this arc now and then through the sponsorship with UTIG to actually be running this competition nationally that had this impact on me, it's pretty full circle for me," he added.
For more about the Science Olympiad, visit the official website. For more about the Institute for Geophysics, click here or visit the official UTIG Science Olympiad page.
Article by Terry L. Britt, former digital media coordinator at the University of Texas at Austin Institute for Geophysics.