In August, The University of Texas at Austin hired Demian Saffer to be the new director of the University of Texas Institute for Geophysics. His full time appointment as UTIG's director begins Jan. 1, 2020.
According to Demian Saffer, geophysics is more than a scientific pursuit. It's a solution.
"If you want to know whether there's going to be enough water to irrigate crops in the Texas Panhandle next year, that's geophysics," said Saffer. "If you want to know where the next big earthquake's going to hit, or how to safely extract oil and gas, that's geophysics."
Saffer is an internationally known geophysicist who studies how fluids influence tectonic processes, and he has a background in leading scientific missions. On Jan. 1, 2020, Saffer will apply his acumen in both areas to a new venture: serving as the director of the University of Texas Institute for Geophysics (UTIG).
UTIG already has a reputation for applying geophysics to investigate big issues that affect society — from the mechanics of subduction zones where the world's biggest earthquakes are born, to studying past periods of climate change so scientists can better understand the climate of today. It's a reputation that aligns with Saffer's perspective on geophysics as a problem-solving tool applicable across the Earth sciences, said Jackson School of Geosciences Dean Sharon Mosher.
"UTIG is a unique institution with global reach and a reputation for working on big science that matters," said Mosher. "In Demian, I believe we have found the leader who can help take us to the next level."
Saffer comes to UTIG from Penn State University, where he was a professor and the head of its Department of Geosciences. During his 20-year career he has published over 120 articles in peer-reviewed journals including Nature, Science, Geophysical Research Letters, Geology, and the Journal of Geophysical Research. He has secured funding from the National Science Foundation, ExxonMobil, Shell, the U.S. Science Support Program, the Consortium for Ocean Leadership, and a host of other funding agencies. And, far from the confines of the office, he has been co-chief scientist on five large expeditions with the International Ocean Discovery Program (IODP) to study subduction zones and slow earthquakes through scientific drilling and borehole monitoring.
But before he was a geophysicist, Saffer was a kid with a rock collection growing up along the rugged coast of Portland, Maine.
"I've always loved the ocean and I've always had a thing for rocks," he said.
However, he said what really fascinated him was taking things apart to learn how they worked. Much to his mother's despair, this meant taking apart the vacuum cleaner at age 5. All in the name of science, of course.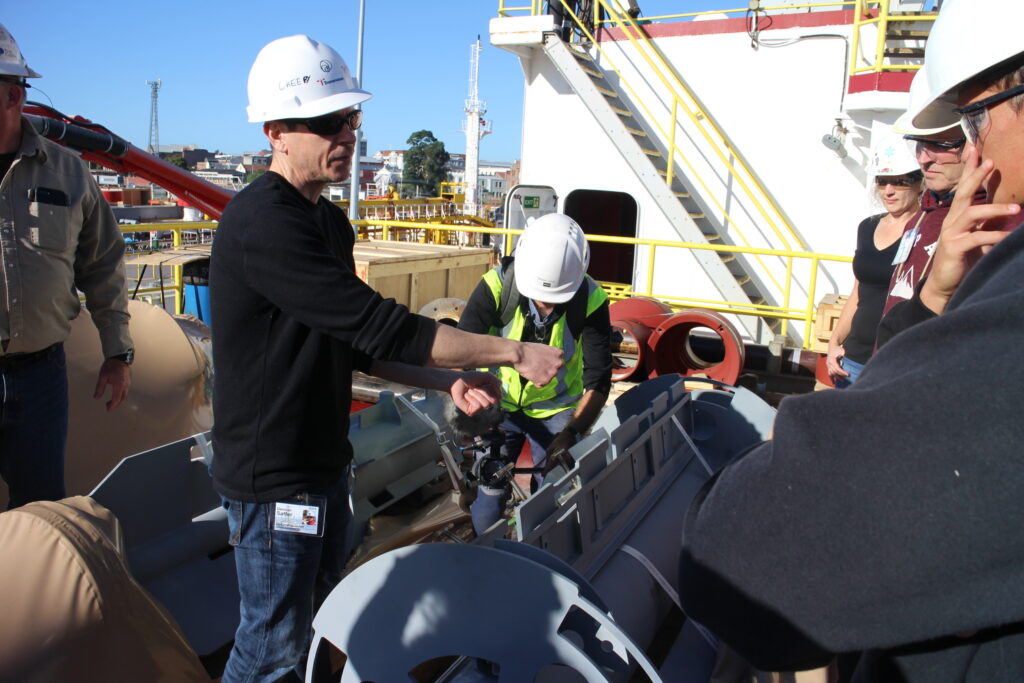 These early experiences eventually led to a degree in geology at Williams College in Massachusetts and then a Ph.D. in Earth sciences at the University of California, Santa Cruz. He then joined the University of Wyoming in 2001, before accepting a position at Penn State in 2005. That was soon followed by leadership positions: first, becoming the head of graduate programs, and then head of Penn State's Department of Geosciences.
Saffer said that his time at Penn State taught him the power of diversity, inclusion and mentoring.
"I learned that if you want to cultivate an environment that embraces diversity, empowers people and retains talent, you need to understand individual perspectives and the challenges people face," he said. "It's not enough to just focus on recruitment; you need to focus on mentorship and counseling across the whole life cycle of people while they are here."
Now entering into the top job at UTIG, Saffer said that building a culture of diversity and inclusivity, student mentorship, and public engagement while advancing interdisciplinary science is a priority for him.
"In many ways, UTIG is already all of these things," he said, "but we need to provide the sustained effort and investment to make UTIG the standard that others will seek to emulate."
Saffer expects a proactive approach will work at UTIG because the Jackson School already has a strong culture of inclusion. He points to the school's GeoFORCE program, a STEM outreach and college prep program that takes kids from underserved areas in Texas on geology field trips across the country.
According to Saffer, the GeoFORCE program works because it takes the whole student life cycle into account, with trips and support changing between the time the students enter middle school and graduate from high school.
"That's the kind of model we can use at UTIG for mentoring graduate students, postdocs and even mid-career scientists," he said. "Creating an effective system of mentorship could really contribute a lot to making scientists at all levels more visible in their community."
When it comes to the science itself, Saffer said that UTIG's designation as a research unit within a college puts it in an advantageous position when it comes to research flexibility, freedom and access to decision makers.
An important aspect of that potential is the intellectual footprint and reach of the institute. Saffer said that when he first arrived at UTIG, he was struck by the breadth of the research.
"From Texas to our planetary neighbors, research at UTIG and the Jackson School really spans from the core to the cosmos," he said.
As director, Saffer said he wants to see more cross-over initiatives in areas that he thinks could significantly advance UTIG's impact in research, education and community. He plans to help the process by creating cross disciplinary partnerships between units and colleges across campus. This includes hiring, and he has already secured funds for unitbridging fellowships to bring new graduate students and a new cohort of undergraduate students to UTIG. Saffer said that building a strong, diverse community is the first step in cultivating a vibrant environment where people — and their research — can thrive. He saw this happening in his hometown of Portland, Maine, where the strong community spirit helped the industrious port town of his childhood mature into a cultural hot spot.
With the people in place, the geophysics-driven solutions will follow.
"With the right incentives and freedom, this is where high-risk, high-reward projects can happen," he said.
Originally published in the Jackson School's 2019 Newsletter.