In November 2002, UTIG researchers Fred Taylor, Cliff Frohlich, and graduate student Kris Gudipati, embarked on a NSF-funded project to study microplate motions in Antarctica using global positioning system (GPS) instruments. Neither Frohlich nor Gudipati had been to Antarctica previously. During the five-week field program aboard the research vessel Laurence M. Gould, Frohlich sent a series of letters and photographs to his friends and family describing what it was like to participate in this project. Published here, the letters and their belong to UTIG Senior Research Scientist Emeritus Cliff Frohlich.
From Cliff Frohlich, 22 December, 2002
Dear family & friends –
At this moment, the ship is steaming madly north, and we should be in sight of Terra del Fuego within a few hours. If all goes well I and about a dozen others on the ship will catch planes in Punta Arenas on Tuesday and make it back home on Chrismas Day. Also, Brenda Hall needs to catch a plane to Buenos Aires to make connections to Christchurch and McMurdo, where she will continue her work. This means, by the way, that she will miss Christmas. That is, not only will she miss being with her family (which includes progeny of ages 5, 4, and 2 years) but since her plane in Buenos Aires takes off at 10 PM on 24th December and flies west, she will cross the international date line a few hours later and it will be 26 December. So she will miss Christmas, literally.
There is still some uncertainty about whether we will make our flights. The original plan had been for the ship to leave Palmer Station on Thursday, giving it an ETA in Punta Arenas on Monday, with a cushion that would allow all of us to catch our Christmas Eve flights even if bad weather slowed us down. However, the very same 40-50 knot windstorm that slowed our work on Elephant Island also prevented one of the scientists at Palmer from collecting data. And so she wanted to use Thursday to collect more data. She wanted the ship to leave on Friday, not Thursday, even if meant that all the rest of us would miss our planes.
Of course, we live in a democracy; so when a dozen people want one thing, and one person another, what do we do? Well, even if it isn't a perfect democracy, really more of a dictatorship, if the ship's captain and the chief scientist don't want to be late to Punta Arenas, what do we do? We wait the extra day, of course. This is because we aren't living in either a democracy or a dictatorship here, but sort of a sciencocracy. Since all of us scientists are funded to do science, and Palmer Station is operated to do science, and the ship is chartered to do science, if one scientist wants to collect data and the rest want to go home, pretty much all of us know that we'll wait and collect data. We may be scientists but we aren't stupid. We are professionals; we do this for food.
Fortunately, the weather in the Drake Passage has been phenomenally good. Apparently last week it was very bad while we were having the high winds at Elephant Island. When we reached Palmer they told us that one of the cruise ships that visited them had taken a 40-50 degree roll. Now, the rolling of ships in storms is like the size of fish; one should be suspicious of the numbers. But judging by how shook up everybody was it must have been one very bad roll. My experience is limited to perhaps 10 or 12 degree rolls, and these get your attention; their roll must have been at least three times larger. In any case, the good news is that as I write this the ship is undergoing 2 degree rolls. So we just hang out on the bridge, watching for the occasional pod of whales. I am also still involved in collecting water samples for the Princeton group; and I signed up to take the 4-8AM shift for deploying XBTs (expendable bathythermographs). However, I am doing this for [?!] fun, not food.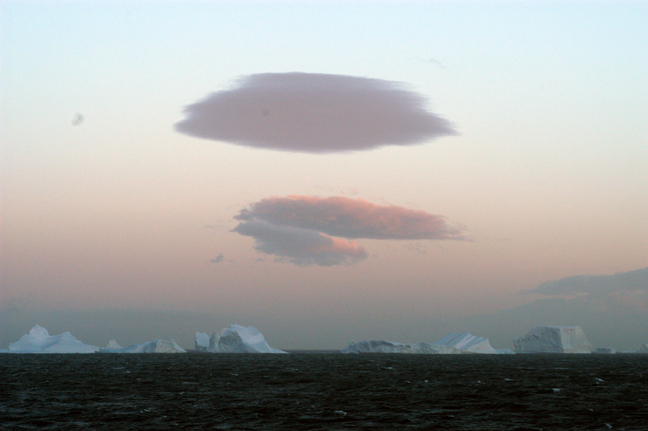 Of course, now that our main work is done, I do have time to think about my Antarctic experience. Antarctica is different from other places I have been in two essential ways:
The experience is extraordinarily visual; at almost any instant you look, there is ice, or islands, or meteorological phenomena that are stunningly beautiful. I have taken perhaps a thousand pictures and there are perhaps a hundred that are worth looking at.
At the same time, there is almost nothing else in Antarctica; there are no trees, no insects, no (land) mammals, no stores, no shopping, no restaurants. Because there are no trees or buildings and the air is so clear, one tends to underestimate distances.
The bottom line is: what you see is what you get. Because it is so visually stunning it would seem to be great tourist destination. However, it is dangerous and quite rugged. If you brought tourists here you really couldn't let them scramble around; elderly tourists would slip on the rocks and break something, and young tourists would fall in the water and die. No wonder they bring them on cruise ships; that way they can sit in the bar and look out a big window at the ice and sky. And, you can sell them stuff in the ship's store. If you ever make it to Antarctica on a ship, bring a camera; most of my best shots were from the ship. On a cruise ship, I expect you could get some shots of good stuff in the bar…
Jackie often complains about undergraduates who write research papers stating as their main conclusion that the book they are analyzing 'really made me think'. They are then somewhat nonplussed at their grade and Jackie's scribbled note in the margin: 'Yes. But what about it made you think? And, what did you think?'
So, how would I summarize my Antarctic experience? In the best tradition of Jackie's students, I must state categorically that:
It was really something.
That is all…
Cliff