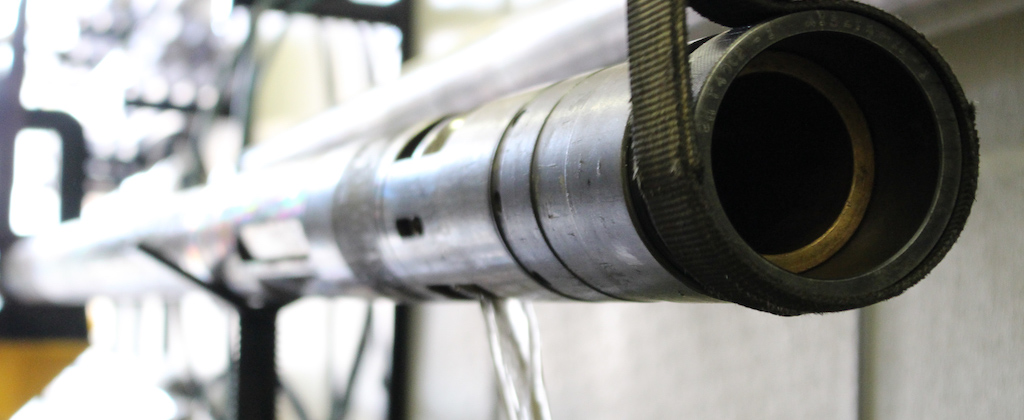 Expedition UT-GOM2-2 General Information
Location: Terrebonne Basin, northern Gulf of Mexico
Sites: WR313 H002 and WR313 H003
Dates: July 30 to September 28, 2023
Chief Scientist: Peter Flemings
Sponsor: U.S. Department of Energy
Expedition Summary & Scientific Objectives
The University of Texas at Austin (UT), Genesis of Methane Hydrate in Coarse-Grained Systems: Northern Gulf of Mexico Slope Project (GOM2), will perform the UT-GOM2-2 drilling and coring expedition in the Terrebonne Basin, Gulf of Mexico outer continental shelf.
The UT-GOM2-2 expedition will sample and analyze the physical, chemical, and biological properties of the hydrate-bearing layers, thereby illuminating the origin, dynamic behavior, and response of this system to perturbation (whether by climate or energy production). Novel technology, developed during the project, will be used to extract cores from a mile beneath the ocean and study those cores in laboratories worldwide, while keeping the samples under their original pressure. Samples taken near the seafloor will constrain the flux of carbon from the sediment into the ocean and determine whether there have been recent temperature perturbations at the ocean floor. Through sampling of the microbes, and analysis of the surrounding pore fluid, we will illuminate the depths and rates at which microbes are generating methane beneath the seafloor. Our analyses will inform biological, geochemical, and geomechanical models to constrain the role of gas hydrates in the carbon cycle and the potential for gas hydrates as an energy resource.
We will drill and core up to two vertical wells to ~9,600 ft below sea level in the offshore Gulf of Mexico in Terrebonne Basin, Walker Ridge Block 313. We will spend up to 35 days at sea mobilizing, executing and demobilizing. We will spend an additional 14 days performing dockside analysis to complete the analysis of the recovered core.
We will characterize the Orange sand and possibly the Upper Blue sand hydrate reservoirs and their bounding units, measure the in situ temperature and pressure profile, and determine the high resolution geochemical, geobiological, and sedimentary profiles in the upper 250 feet below the sea floor (fbsf).
Pressure core and conventional core will be collected in up to two holes adjacent to previously drilled wells. We will use the DOE Pressure Coring Tool with Ball Valve (PCTB) to obtain pressure core. Conventional core will be collected using Geotek's APC or XCB coring tool. Temperature and pressure measurements will also be made with a penetrometer.
We will use Geotek's Pressure Core Analysis and Transfer System (PCATS) to log and X-Ray image the pressure cores. PCATS will also be used to subsample the recovered pressure cores at hydrate-stable conditions and to transfer samples to pressurized storage chambers. Onboard and dockside, subsamples will undergo quantitative degassing to determine dissolved methane and hydrate concentrations. Pressure core in storage chambers will be transported to UT's Jackson School of Geosciences and stored at the UT Pressure Core Center and other institutions.
Conventional cores will be processed on board and dockside. Onboard, conventional core will be run through a Geotek IR Scanner to create a thermal image to identify where hydrate dissociation had just occurred. Sections of conventional and depressurized core will be cut for microbiology, pore water analysis, and moisture and density (MAD) analysis. Sections for pore water analysis will be squeezed and ephemeral pore water measurements will be completed on board. Preserved pore water samples will be shipped to the University of Washington for analysis. Microbiology samples will be sent to Oregon State University for analysis. MAD samples will be sent to Tufts University for analysis.
The conventional and depressurized core will undergo CT 3D scanning, Geotek MSCL whole core logging, core splitting, split core scanning, primary litho- and biostratigraphy. Additional whole core samples will be cut for geomechanical testing after whole core scanning. Subsamples of split core will be shipped to the University of New Hampshire, UT, and others for secondary litho- and biostratigraphy. Split core archival and working halves will be placed in long term cold storage at UT.
The Preliminary Expedition Report will be issued 2 months post-expedition. The Expedition Report will be published 1-year post-expedition. We are eager to support hydrate science by the broader community and requests for data and/or samples can be made to UT.
Prospectus
Download the UT-GOM2-2 Prospectus: Science and Sample Distribution Plan (V2.3) | PDF
Operations Plan
Download the UT-GOM2-2 Operations Plan (rev. 2.3) | PDF
Bibliography
Download the UT-GOM2-2 Pre-Expedition Bibliography | PDF
Expedition Blog
Jackson School Science Writer Monica Kortsha and videographer Drew Ott joined the team to document the expedition and tell the story.
Media Inquiries
If you are a member of the media looking for more information on the expedition, please contact:
Anton Caputo
Director of Communications, UT Jackson School for Geosciences
Email: anton.caputo@jsg.utexas.edu
Office: (512) 232-9623