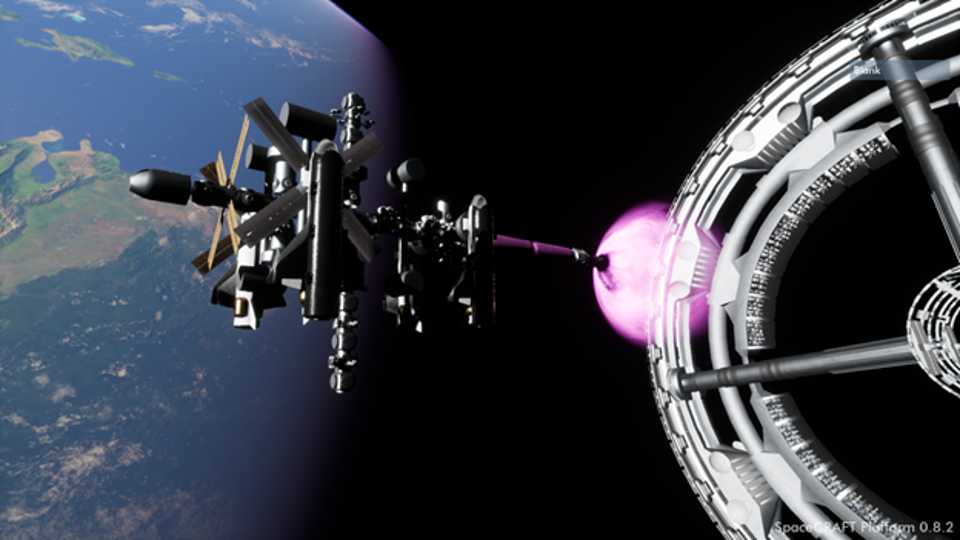 What is Space Teams Labs?
Space Teams Labs will provide middle- and high-school-aged students a virtual portal to learn, collaborate, and engage in space mission design and simulation. Space mission virtual reality (VR) demos, such as spacewalking on the International Space Station, exploring the surface of any planet or moon, or experiencing artificial gravity on a rotating space station, will inspire and engage students to pursue STEM. In this collaborative space system virtual reality STEM educational experience, students will…
collaborate, communicate, problem-solve and work as a team
conduct a human space exploration mission
build their own spacecraft
travel across the vast expanses of space
create their own base
explore a new planet
find resources to sustain mission habitability
…all while learning STEM concepts and meeting next-generation science standards (PDF).
What is the cost?
100 lab sites will be FREE! The standard cost of Space Teams for a 4-user site license is $495/year, but for this program 50 Space Teams Lab sites will be selected and supported 100% by a NASA award including hardware and software, plus a $1,000 educator facilitator stipend for program training and implementation for the duration of the NASA award. 50 additional sites that already have access to existing compatible hardware will be supported with $1,000 educator stipends. Even more sites may be chosen that simply wish to have access to the software. All potential lab sites: please indicate your level of need in the application. If selected, your institution is expected to participate through the end of the NASA award.
Applications are welcome from all states. NASA funding for Space Teams Labs supports up to 100 sites in Louisiana, New Mexico, and Texas and is facilitated by the Space Grants in those states. To participate independent of this NASA Space Grant program, apply online or contact spaceteamslabs@utexas.edu or see www.SpaceTeamsAcademy.com for more information.
Who can apply?
Any school, museum, library, non-profit, university partner, or other facility that targets middle- and high-school-aged youth. Initial NASA program funding supports up to 100 sites in Louisiana, New Mexico, and Texas and is facilitated by the Space Grants in those states. Applications are welcome from all states for all schools and STEM programs outside the supported states and can participate at the cost of $495 per site, plus $50 per student.
What are the application criteria?
Target Audience: All facilities serving middle- and high-school-aged youth are encouraged to apply. The NASA award* that supports Space Teams Labs is focused on increasing STEM diversity. Selection priority is given to facilities that engage groups traditionally underserved (for example, rural communities, Title 1 schools) and those underrepresented in STEM fields (women, minorities, and persons with disabilities) and others who face entrenched barriers to higher education such as financial hardship.
Target Numbers: The facility should engage at least 60 students per year in the Space Teams Lab. For example, a school including summer school may engage a class of 20 students each spring, summer, and fall (20×3=60), or without summer, may engage 30 students in spring and fall (30×2=60); a museum, library, or after-school program may engage a team of 5 students each month (12×5 = 60).
How long does the program take to complete?
The program is flexible to meet your students' time availability and curriculum cadence. There are 6 learning modules. Space Teams has been run as a 6-day camp, and so may be delivered anywhere from 6 days (1 topic per day) to 6 weeks (1 topic per week). As student teams complete each module, they are scored and can compare scores with other teams. At any point in the process, they may return to an earlier module and make improvements to their choices based upon what they learned to aim for a higher score. After completion of module 6, students receive a completion certificate and can revisit the program at any point to work on learning and improving their design.
How many students can engage with the program at the same time?
A good team size is 4-8 students. They could work together to share a computer or work in a pod of computers. Each of the 50 sites chosen by the program to be fully-supported sites will receive at least one computer capable of running the program. 50 additional sites will be selected that have existing computers that meet the application criteria and are capable of running the Space Teams software.
What are the minimum computer specifications?
Specs needed to run the Space Teams software (called SpaceCRAFT): a CPU with at least 4 cores / 2.7 GHZ, 8 GB RAM, 15 GB available on hard drive, Windows 10, GPU recommended.
Is this educational?
Absolutely! Space Teams is an ESSA Level 4 STEM program (Every Student Succeeds Act). This implementation of Space Team Labs will be evaluated for efficacy by a formal education study to reach ESSA Level 3. Curriculum details for the six Space Teams Lab modules are listed here. The programs are continuously updated to provide current content and optimal user experiences.
Space Teams Labs align with Next Generation Science Standards as listed here (PDF). Program evaluation is one of our goals. As such, there are opportunities for students and facilitators to complete voluntary surveys and for select facilitators to participate in brief interviews. Participants can choose to participate or not to participate. They can withdraw from the surveys at any point without feeling an obligation to continue. Non-participation or withdrawal will not affect their relationship with the Space Teams Labs program. Education evaluation is coordinated by Raise Achievement, LLC and The Texas A&M University Education Research Center.
What else do we need for the application?
Data asked for in the application are:
contact information for two people: an educator facilitator and a secondary contact;
address and background information on your facility;
a short paragraph describing why you wish to have a Space Team Lab and the impact it would have on your students (200 words maximum);
anticipated number of students that will participate – please specify either # per year or # per semester or # per spring/summer/fall. Examples: 100 students per year; 30 students per fall & spring; 60 students per summer;
relevant underserved demographics (examples: Title 1 school, percentages of female or under-represented minorities, rural or socio-economic data).
What if we have questions?
For additional information, please contact spaceteamslabs@utexas.edu, or:
Dr. Tim Urban, urban@utexas.edu
Director, Texas Space Grant Consortium
The University of Texas at Austin
Principal Investigator, Space Teams Labs
Dr. Greg Chamitoff, chamitoff@tamu.edu
Director, Texas A&M ASTRO Lab and former astronaut
Texas A&M University
Program Lead, Space Teams and SpaceCRAFT software
*Space Teams Labs is supported by the NASA Space Grant K-12 Inclusiveness and Diversity in STEM award for a regional pilot program across Louisiana, New Mexico, and Texas. [SG-KIDS Engagement Opportunities in NASA STEM 2022, NNH22ZAO001N-SGKIDS, 10/1/2022-9/30/25]