Program Information
Dates: June 12-14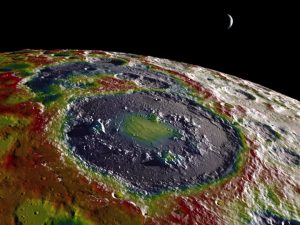 Despite enormous advances in our understanding in many areas of biology, the origin of life remains an unsolved problem. Some questions to be addressed in week 1 include:
Where did life originate? Undersea vents, hot springs, impact craters, or elsewhere?
How are the precursors for life produced?
How does abiotic chemistry make the transition to a system that can replicate and evolve?
What does current life tell us about the habitat and metabolism of the Last Universal Common Ancestor (LUCA)?
Location: This week we will meet in ROC 1.603 on J.J. Pickle Research Campus. UTIG is easily accessible from the UT main campus using the Capital Metro 803 bus.
Week 1 Organizers: David Hoffman, Sean Gulick and Cornelia Rasmussen
Speakers
Laurie Barge, Research Scientist, NASA Jet Propulsion Laboratory, California Institute of Technology
David Kring, Senior Staff Scientist, USRA Lunar and Planetary Institute
Loren Williams, Professor, Department of Chemistry & Biochemistry, Georgia Institute of Technology
Watch Live
Tuesday:
Wednesday:
Thursday:
Schedule
Tuesday
Wednesday
Thursday
9:00 - 9:30 AM
Continental Breakfast
9:00 - 9:30 AM
Continental Breakfast
9:00 - 9:30 AM
Continental Breakfast
9:30 - 10:00 AM
Introduction from Dr. William Cochran and week one organizers
9:30 - 10:30 AM
Tectonics & Life
Nick Hayman, UTIG
9:30 - 10:30 AM
Impacts & Life
Sean Gulick
10:00 - 11:00 AM
Biochemistry for Astronomers
David Hoffman
10:30 - 11:00 AM
Coffee Break
10:30 - 11:00 AM
Coffee Break
11:00 - 11:30 AM
UT Vice President for Research, Dr. Dan Jaffe
Coffee break
11:00 AM - 12:30 PM
The Horrible Origin of Life
Loren Williams
11:00 AM - 12:30 PM
Impact Origin of Life Hypothesis
David Kring
11:30 AM - 12:00 PM
Discussion
12:30 - 1:30 PM
Lunch
12:30 - 1:30 PM
Lunch
12:00 - 1:00 PM
Lunch
1:30 - 2:00 PM
Earth History of Life
Cornelia Rasmussen
1:30 - 2:00 PM
Perspectives from Planetary Atmospheres
Laurence Trafton, McDonald Observatory
1:00 - 2:30 PM
Origin of life - bio(geo) chemical cycles
Laurie Barge
2:00 - 3:00 PM
Group Discussion
2:00 - 3:00 PM
Group Discussion
2:30 - 3:00 PM
Coffee Break
3:00 - 3:30 PM
Coffee Break
3:00 - 3:30 PM
Coffee Break
3:00 - 3:30 PM
Recovery of Life
Chris Lowery, UTIG

3:30 - 5:00 PM
Group Discussion
3:30 - 5:00 PM
Group Discussion
3:30 - 5:00 PM
Group Discussion

Evening
Organizer dinner with speakers
Evening
Informal drinks and discussion
Evening
Buffet and social get together
Open to all participants, please RSVP