Program Information
Dates: July 10-12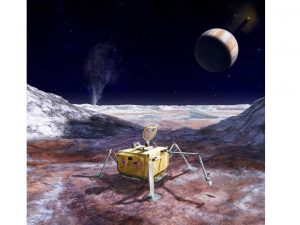 The theme of Week 4 is "How to Find and Recognize Life". We will focus on the search for life in our Solar System through robotic space missions searching for life or its building blocks in situ, as well as life beyond our Solar System using telescopes to search for biosignatures on planets around nearby stars and possibly technosignatures from more distant civilizations. We will review the methods proposed to search for life, outline the path forward, and discuss how to avoid pitfalls like false positive detections.
In addition to the daytime events this week, on Thursday, July 12 Dr. Jill Tarter of the SETI Institute will be speaking in Mulva Auditorium (room EER 0.904). More information coming soon.
Location: This week we will be meeting in EER 0.904 on UT Austin's Main Campus.
Week 4 Organizers: Michael Endl, Brendan Bowler, and Andrew Vanderburg
Watch Live
Join from PC, Mac, Linux, iOS or Android: https://zoom.us/j/4136419048
Or iPhone one-tap:
    US: +16468769923,,4136419048#  or +16699006833,,4136419048#
Or Telephone: Dial(for higher quality, dial a number based on your current
location): US: +1 646 876 9923  or +1 669 900 6833
    Meeting ID: 413 641 9048
    International numbers available: https://zoom.us/u/GGuO1IAk
Speakers:
Shawn Domagal-Goldman, Research Scientist, Goddard 
Scott Gaudi, Associate Professor, The Ohio State University
Sarah Johnson, Assistant Professor, Georgetown 
Jill Tarter, Emeritus Chair for SETI Research, SETI Institute 
Tuesday
Wednesday
Thursday
9:00 - 9:30 AM
Coffee and snacks
9:00 - 9:30 AM
Coffee and snacks
9:00 - 9:30 AM
Coffee and snacks
9:30 - 10:00 AM
Welcome - Summary of week 3 and overview of week 4
9:30 - 10:00 AM
Introductory Background Material: Biochemistry of Life
David Hoffman

9:30 - 10:30 AM
SETI: Past, Present, and Future Searches for Technosignatures
Jill Tarter
10:00 - 10:30 AM
Introductory Background Material - Techniques for finding exoplanets
Brendan Bowler
10:00 - 10:30 AM
Chemical and energy requirements for life on Earth and in the Solar System
Reinaldo Alcalde
10:30 - 11:00 AM
Group Discussion
10:30 - 11:00 AM
Introductory background material - characterizing exoplanets with spectroscopy
Mike Endl
10:30 - 11:00 AM
Viruses: From Inner Space to Outer Space
Jackie Dudley
11:00 - 11:30 AM
Coffee break
11:00 - 11:30 AM
Coffee break
11:00 - 11:30 AM
Coffee break
11:30 AM - 12:00 PM
Can We Recognize Intelligence On Earth
William Lawson and Taft Broome
11:30 AM - 12:00 PM
The recent and near-term pathway to characterizing planets
Andrew Vanderburg
11:30 AM - 12:00 PM
Searching for life from a mineralogical and geological perspective
Elizabeth Catlos
12:00 - 12:30 PM
Group Discussion
12:00 - 12:30 PM
GMT status and exoplanet science
Taft Armandroff
12:00 - 12:30 PM
Hidden life in caves: the case of spectacular mineral deposits in Asperge cave (France)
Nicola Tisato
12:30 - 1:30 PM
Lunch
12:30 - 1:30 PM
Lunch
12:30 - 1:30 PM
Lunch
1:30 - 2:30 PM
The Time is Now: Beginning the Search for Life Outside our Solar System
Scott Gaudi
1:30 - 2:30 PM
The Future of Biosignature Theory: Moving from Intuition to Quantification of Certainty
Shawn Domagal-Goldman
1:30 - 2:30 PM
Agnostic Approaches to Life Detection
Sarah Johnson
2:30 - 3:30 PM
Discussion
2:30 - 3:30 PM
Discussion
2:30 - 3:30 PM
Discussion
3:30 - 4:00 PM
Coffee break
3:30 - 4:00 PM
Coffee break
3:30 - 4:00 PM
Coffee break
4:00 - 5:00 PM
Wrap-up discussion
4:00 - 4:30 PM
Chirality as a Biosignature
Gene McDonald
4:00 - 4:30 PM
Optofluidic concentration, enantiodiscrimination and enantioselective separation of chiral molecules for in-situ life detection
Yuebing Zheng
7:00 PM
Public Talk
A Cosmic Perspective: Searching for Aliens, Finding Ourselves
Jill Tarter
4:30 - 5:00 PM
Wrap-up discussion
4:30 - 5:00 PM
Wrap-up discussion
Evening activity
Group dinner an drinks at Scholz Garden