Program Information
Dates: June 19-21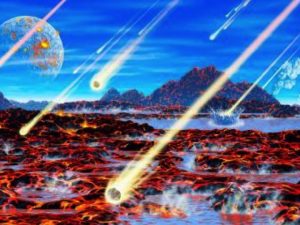 After the first workshop On the Origin of Life discussed the conditions that are required for the emergence of life, the second workshop will investigate where these conditions are likely to exist. Therefore, the workshop Planetary Dynamics will bring together astronomers, geoscientists and astrobiologists to investigate: What types of planetary systems and what bodies within them are likely to provide conditions conducive to the development of life?
The charge of this workshop is very broad and ranges from questions about the stability and interactions of planetary orbits, to questions about the internal structure of the bodies, their tectonic activity, and the persistence of liquid water. This workshop will bring together local and international experts to identify the most relevant and urgent questions that are critical to understand where life can develop.
Location: This week we will meet in ROC 1.603 on J.J. Pickle Research Campus. UTIG is easily accessible from the UT main campus using the Capital Metro 803 bus.
Week 2 Organizers: Marc Hesse and Judit Ries
Speakers
Konstantin Batygin, Assistant Professor, Caltech
Forbes named professor Konstantin Batygin the "next physics rock star" in its 2015 list of "30 Under 30: Young Scientists Who Are Changing the World." He received his bachelor's degree in physics from University of California, Santa Cruz in 2008, before pursuing graduate studies at California Institute of Technology. To date, Batygin has authored over fifty scientific publications, and his research has been featured on the pages of Nature as well as the front cover of Scientific American. Prior to joining the faculty at California Institute of Technology in 2014, Batygin was a visiting scientist at Observatoire de la Côte d'Azur in Nice, France, and an ITC postdoctoral fellow at Harvard University. When not doing science, he moonlights as the lead singer in the rock band, The Seventh Season.
Ed Kite, Assistant Professor, University of Chicago
Edwin Kite is an assistant professor of planetary science at the University of Chicago. He received his PhD from the University of California, Berkeley in 2011. Kite works on solar system and exoplanet habitability, with an emphasis on retrieval and modeling of early Mars climate as recorded by geology. He was the recipient of the AGU Ronald Greeley Early Career Award in Planetary Science in 2016.
Adrian Lenardic, Professor, Rice University
Born in Zagreb. Early years in Croatia. Formative and skateboard years in Milwaukee and Madison, WI. Grad student and surfing years in Los Angeles, CA. Post Doc and snowboard years in Berkeley CA. Married, Real Job, and Homeowner all in a day leading into Professorial and back to skateboard years in Houston, TX – Rice University to be specific. At Rice, Adrian's research has bounced between Earth dynamics (from today to the deep past) and comparative planetology, with a focus on the physical, chemical, and temporal conditions that may, or may not, favor life potential for a terrestrial planet. Recent examples, from each research line, include : 1) The dynamics of plate tectonics and 2) The coupled solid planet and climate evolutions of terrestrial planets (in this solar system and in others).
Renu Malhotra, Louise Foucar Marshall Science Research Professor, Regents' Professor of Planetary Sciences, University of Arizona
Renu Malhotra is Louise Foucar Marshall Science Research Professor and Regents' Professor of Planetary Sciences at The University of Arizona in Tucson, where she directed the Theoretical Astrophysics Program during 2011-2016. She was born in New Delhi and grew up in Hyderabad, India. She earned her M.S. in Physics from the Indian Institute of Technology in Delhi in 1983, and her Ph.D. in Physics from Cornell University in 1988. She did post-doctoral research at Cornell and at Caltech, and worked as a staff scientist at the Lunar and Planetary Institute in Houston. Her work in planetary dynamics has spanned a wide variety of topics, including extra-solar planets and debris disks around nearby stars, the formation and evolution of the Kuiper belt and the asteroid belt, the orbital resonances amongst the moons of the giant planets, and the meteoritic bombardment history of the planets. She has revolutionized our understanding of the history of the solar system by using the orbital resonance between Pluto and Neptune to infer large-scale orbital migration of the giant planets and to predict the existence of the "Plutinos" and other small planets in resonance with Neptune. She is an elected member of the National Academy of Sciences and of the American Academy of Arts and Sciences, and has been the recipient of honors and awards from the American Astronomical Society, the International Astronomical Union, The University of Arizona, and the IIT-Delhi.
Watch Live
Tuesday:
Wednesday:
Thursday:
Schedule
Tuesday
Theme: Orbital Dynamics
Wednesday
Theme: Rocky Worlds
Thursday
Theme: Icy Worlds
9:00 - 9:30 AM
Continental Breakfast
9:00 - 9:30 AM
Continental Breakfast
9:00 - 9:30 AM
Continental Breakfast
9:30 - 10:00 AM
Welcome and Summary of previous week
9:30 - 10:30 AM
Evolution of Terrestrial Planets
Edwin Kite
9:30 - 10:00 AM
Thermal evolution of small bodies
Marc Hesse
10:00 - 11:00 AM
Short introduction by invited speakers
10:30 - 11:00 AM
Coffee Break
10:00 - 10:30 AM
Tidal heating
Konstantin Batygin
11:00 - 11:30 AM
Coffee break
11:00 - 11:30 AM
Atmospheres
Caroline Morley
10:30 AM - 11:00 AM
Coffee Break
11:30 AM - 12:00 PM
Solar System Formation
Adam Kraus
11:30 AM - 12:00 PM
Volatiles on Earth
Anita Cochran
11:00 - 11:30 AM
Geochemical heating
Nick Hayman, UTIG
12:00 - 12:30 PM
Chronology of Solar System
Marc Hesse
12:00 - 12:30 PM
Group Discussion
11:30 AM - 12:00 PM
Ice-shell dynamics
Luc Lavier and Matthew Weller, UTIG
12:30 - 1:30 PM
Lunch
12:30 - 1:30 PM
Lunch
12:00 - 12:30 PM
Group Discussion
1:30 - 2:30 PM
Dynamics of Planetary Systems
Renu Malhotra
1:30 - 2:30 PM
Tectonics, Climate, and Potential for Life
Adrian Lenardic
12:30 - 1:30 PM
Lunch
2:30 - 3:30 PM
Group Discussion

2:30 - 3:30 PM
Group Discussion
1:30 - 2:00 PM
Fissure eruptions
Edwin Kite
3:30 - 4:00 PM
Coffee Break
3:30 - 4:00 PM
Coffee Break
2:00 - 2:30 PM
Cryovolcanic plumes
David Goldstein
4:00 - 5:00 PM
Current Narrative Solar System
Konstantin Batygin
4:00 - 4:30 PM
Impacts
Renu Malhotra
2:30 - 3:30 PM
Group Discussion
5:00 - 5:30 PM
Group Discussion
4:30 - 5:00 PM
Meteorites
Judit Gyorgyey Ries
3:30 - 4:00 PM
Coffee Break
Evening
Organizers' Dinner
5:00 - 5:30 PM
Group Discussion
4:00 - 5:30 PM
Synergistic Discussion
Evening
Social at Freedmen's - open to all participants please RSVP to moon@astro.as.utexas.edu by June 18
Evening
Optional informal dinner and drinks at Lustre Pearl